Can Osmopriming Induce Cross-Tolerance for Abiotic Stresses in Solanum paniculatum L. Seeds? A Transcriptome Analysis Point of View
Abstract
Solanum paniculatum
L. belongs to the Solanaceae family and has the ability to grow and develop under unfavorable environmental conditions such as drought and salt stress, acid soils and soils poor in nutrients. The present work aimed to analyze
S. paniculatum
seed transcriptome
[...] Read more.
Solanum paniculatum
L. belongs to the Solanaceae family and has the ability to grow and develop under unfavorable environmental conditions such as drought and salt stress, acid soils and soils poor in nutrients. The present work aimed to analyze
S. paniculatum
seed transcriptome associated with induced tolerance to drought stress by osmopriming. Seeds subjected to osmopriming (−1.0 MPa) displayed a higher germination and normal seedling percentage under drought stress when compared with unprimed seeds. RNA-seq transcriptome profiles of osmoprimed and unprimed seeds were determined and the potential proteins involved in the drought tolerance of
S. paniculatum
were identified. From the 34,640 assembled transcripts for both osmoprimed and unprimed seeds, only 235 were differentially expressed and, among these, 23 (10%) transcripts were predicted to code for proteins potentially involved in response to stress, response to abiotic stimulus and response to chemical. The possible mechanisms by which these stress-associated genes may confer tolerance to osmoprimed
Solanum paniculatum
seeds to germinate under water deficit was discussed and may help to find markers for the selection of new materials belonging to the Solanaceae family that are more tolerant to stress during and following germination.
Full article
►

▼

Show Figures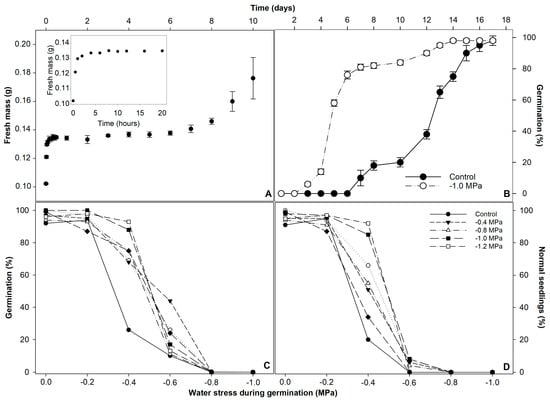 Figure 1