Morphological and Seed Germination Behavior of Three Herba Swertiae Species from Hulunbuir, Inner Mongolia: Temperature and Substrate Effects
Abstract
The Mongolian medicinal herb
Herba Swertiae
is a group of critically endangered medicinal herbs that are difficult to obtain from the wild. This is due to their low percentage of seed germination and difficult domestication. The aim of this study was to investigate
[...] Read more.
The Mongolian medicinal herb
Herba Swertiae
is a group of critically endangered medicinal herbs that are difficult to obtain from the wild. This is due to their low percentage of seed germination and difficult domestication. The aim of this study was to investigate the suitable germination conditions for enabling large-scale cultivation and improving the breeding efficiency of these herbs. We used the seeds of
Lomatogonium rotatum
(L.) Fries ex Nym,
Gentianopsis barbata
(Froel.) Ma., and
Parnassis palustris
L. to study their morphological characteristics and the required germination temperature and substrate. Results showed that there were aages outside the seed coats of all three
Herba Swertiae
collected from Hulunbuir, which had a binding effect on the primary root breaking through the seed coat to form seedlings. In addition, the seeds showed a significantly higher germination rate at 25 °C, and the percentage of seeds germinating in the mixed medium of soil and vermiculite at a 1:1 ratio was significantly higher than on filter paper. We conclude that the morphological characteristics of the seeds have great significance in promoting seed germination. Germination substrate, as an important medium, and temperature, as an important environmental condition, play crucial roles in plant seed germination.
Full article
►

▼

Show Figures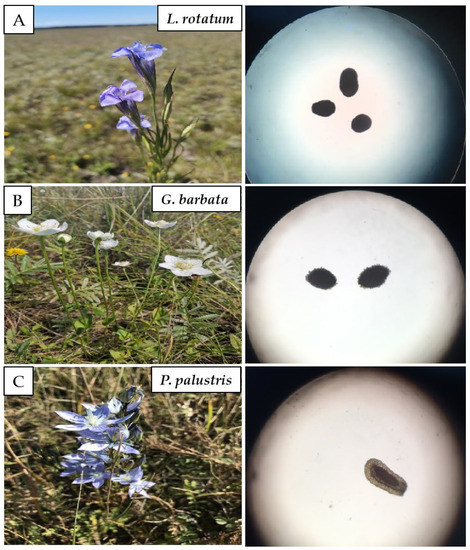 Figure 1