Trypsin Genes Are Regulated through the miRNA Bantam and Associated with Drug Sensitivity in the Sea Louse Caligus rogercresseyi
Non-Coding RNA 2021, 7(4), 76; https://doi.org/10.3390/ncrna7040076 (registering DOI) - 03 Dec 2021
Abstract
The role of
trypsin
genes in pharmacological sensitivity has been described in numerous arthropod species, including the sea louse
Caligus rogercresseyi
. This ectoparasite species is mainly controlled by xenobiotic drugs in Atlantic salmon farming. However, the post-transcriptional regulation of
trypsin
genes and
[...] Read more.
The role of
trypsin
genes in pharmacological sensitivity has been described in numerous arthropod species, including the sea louse
Caligus rogercresseyi
. This ectoparasite species is mainly controlled by xenobiotic drugs in Atlantic salmon farming. However, the post-transcriptional regulation of
trypsin
genes and the molecular components involved in drug response remain unclear. In particular, the miRNA
bantam
family has previously been associated with drug response in arthropods and is also found in
C. rogercresseyi
, showing a high diversity of isomiRs. This study aimed to uncover molecular interactions among
trypsin
genes and
bantam
miRNAs in the sea louse
C. rogercresseyi
in response to delousing drugs. Herein, putative mRNA/miRNA sequences were identified and localized in the
C. rogercresseyi
genome through genome mapping and blast analyses. Expression analyses were obtained from the mRNA transcriptome and small-RNA libraries from groups with differential sensitivity to three drugs used as anti-sea lice agents: azamethiphos, deltamethrin, and cypermethrin. The validation was conducted by qPCR analyses and luciferase assay of selected
bantam
and
trypsin
genes identified from in silico transcript prediction. A total of 60
trypsin
genes were identified in the
C. rogercresseyi
genome, and 39
bantam
miRNAs were differentially expressed in response to drug exposure. Notably, expression analyses and correlation among values obtained from
trypsin
and
bantam
revealed an opposite trend and potential binding sites with significant ΔG values. The luciferase assay showed a reduction of around 50% in the expression levels of the
trypsin 2-like
gene, which could imply that this gene is a potential target for
bantam
. The role of
trypsin
genes and
bantam
miRNAs in the pharmacological sensitivity of sea lice and the use of miRNAs as potential markers in these parasites are discussed in this study.
Full article
►

▼

Show Figures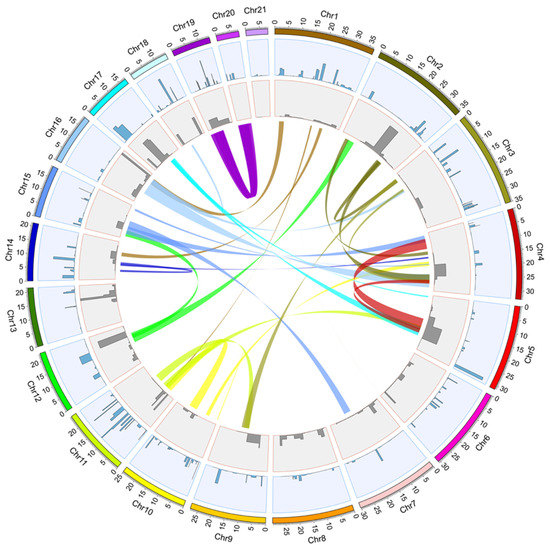 Figure 1