Staphylococcus aureus Small RNAs Possess Dephospho-CoA 5′-Caps, but No CoAlation Marks
Cited by 2
| Viewed by 2064
Abstract
Novel features of coenzyme A (CoA) and its precursor, 3′-dephospho-CoA (dpCoA), recently became evident. dpCoA was found to attach to 5′-ends of small ribonucleic acids (dpCoA-RNAs) in two bacterial species (
Escherichia coli
and
Streptomyces venezuelae
). Furthermore, CoA serves, in addition to
[...] Read more.
Novel features of coenzyme A (CoA) and its precursor, 3′-dephospho-CoA (dpCoA), recently became evident. dpCoA was found to attach to 5′-ends of small ribonucleic acids (dpCoA-RNAs) in two bacterial species (
Escherichia coli
and
Streptomyces venezuelae
). Furthermore, CoA serves, in addition to its well-established coenzymatic roles, as a ubiquitous posttranslational protein modification ('CoAlation'), thought to prevent the irreversible oxidation of cysteines. Here, we first identified and quantified dpCoA-RNAs in the small RNA fraction of the human pathogen
Staphylococcus aureus
, using a newly developed enzymatic assay. We found that the amount of dpCoA caps was similar to that of the other two bacteria. We furthermore tested the hypothesis that, in the environment of a cell, the free thiol of the dpCoA-RNAs, as well as other sulfur-containing RNA modifications, may be oxidized by disulfide bond formation, e.g., with CoA. While we could not find evidence for such an 'RNA CoAlation', we observed that CoA disulfide reductase, the enzyme responsible for reducing CoA homodisulfides in
S. aureus
, did efficiently reduce several synthetic dpCoA-RNA disulfides to dpCoA-RNAs in vitro. This activity may imply a role in reversing RNA CoAlation.
Full article
►

▼

Show Figures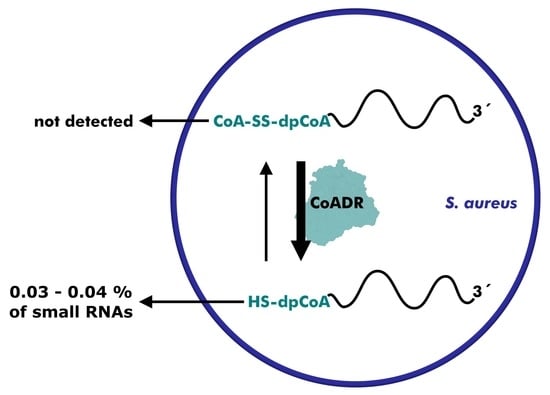 Graphical abstract