A Novel Technique for Determination of Residual Direct-Current Voltage of Liquid Crystal Cells with Vertical and In-Plane Electric Fields
Symmetry 2021, 13(5), 816; https://doi.org/10.3390/sym13050816 (registering DOI) - 07 May 2021
Abstract
Generation of residual direct-current (DC) voltage (
V
rDC
) induces serious image sticking of liquid crystal displays (LCDs). In this study, a novel technique to determine the
V
rDC
of LC cells is proposed. We found that the
V
rDC
could be
[...] Read more.
Generation of residual direct-current (DC) voltage (
V
rDC
) induces serious image sticking of liquid crystal displays (LCDs). In this study, a novel technique to determine the
V
rDC
of LC cells is proposed. We found that the
V
rDC
could be determined from a current-voltage (
I-V
) curve obtained by the application of triangular voltage. In the case of a vertically aligned twisted nematic (VTN) mode LC cell, where a vertical electric field is applied, the
I-V
curve shows maximum and minimum current peaks owing to rotation of an LC director, and the
V
rDC
is able to be determined from an average value of the two peaks. On the other hand, in the case of a fringe field switching (FFS) mode LC cell, where an in-plane (lateral) electric field is applied from comb electrodes, the current peaks derived from the rotation of the LC director do not appear. Therefore, we could not adopt the same way with that of the VTN mode LC cell. However, we found that there were two minimum current peaks derived from minimum capacitances of the FFS mode LC cell, and could determine the
V
rDC
by using these two current peaks. The proposed technique would be useful for the evaluation of the
V
rDC
of the LCDs, where the electric field is applied both vertically and laterally.
Full article
►

▼

Show Figures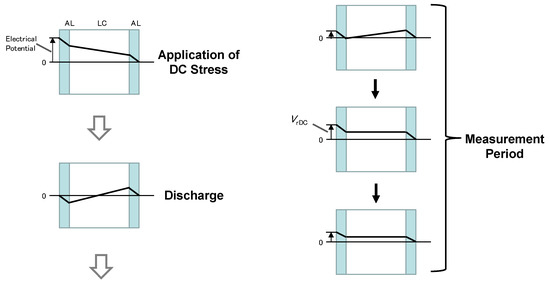 Figure 1