Rickettsial Agents Associated with Ectoparasites in Attica, Greece
Abstract
The bacteria of the families
Rickettsiaceae
and
Anaplasmataceae
, harbored by arthropod vectors, may cause disease in animals and humans. The aim of this study was to screen ectoparasites collected from cats and dogs in Attica, Greece for the bacteria of the Rickettsiales
[...] Read more.
The bacteria of the families
Rickettsiaceae
and
Anaplasmataceae
, harbored by arthropod vectors, may cause disease in animals and humans. The aim of this study was to screen ectoparasites collected from cats and dogs in Attica, Greece for the bacteria of the Rickettsiales group, by molecular methods. The ectoparasites examined were
Ctenocephalides felis
fleas and
Rhipicephalus sanguineus
s.l.,
Rhipicephalus
sp., and
Ixodes
sp. ticks.
Rickettsia felis
was detected in 4.8% of
C. felis
fleas, and
Rickettsia conorii
was detected in 7.3% of
R. sanguineus
s.l. ticks.
Ehrlichia canis
was found in one
R. sanguineus
s.l. tick, and
Wolbachia pipientis
was detected in the majority of fleas. Another endosymbiont,
Cancidatus
Midichloria mitochondrii (
Cancidatus
Midichloriaceae), was detected in one
Ixodes
sp.. This is the first report of
R. conorii
and
E. canis
in
R. sanguineus
s.l. ticks in this study area. Given the fact that Greece is considered endemic for spotted fever group rickettsioses, further investigation of these rickettsial pathogens' distribution in their vectors and hosts could enhance our knowledge of their epidemiology, in order to assess their potential implications for public health in this metropolitan area.
Full article
►

▼

Show Figures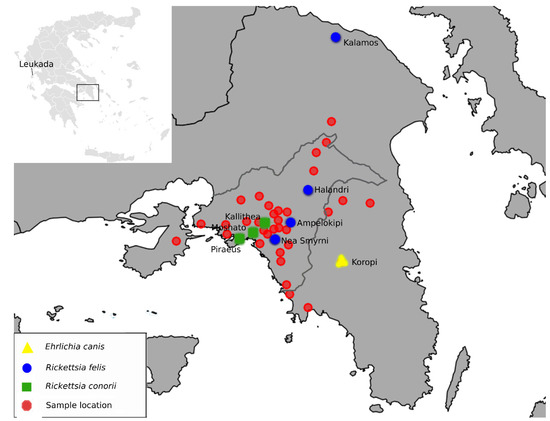 Figure 1