Biological Traits and Genetic Relationships Amongst Cultivars of Three Species of Tagetes (Asteraceae)
Viewed by 550
Abstract
Marigolds (
Tagetes
spp.) are multifunctional flowering plants belonging to the Asteraceae family, well-known and widespread for their ornamental value and many other uses. In this study, morphological differences and genetic relationships among 21 cultivars of three species of marigold (
Tagetes patula
[...] Read more.
Marigolds (
Tagetes
spp.) are multifunctional flowering plants belonging to the Asteraceae family, well-known and widespread for their ornamental value and many other uses. In this study, morphological differences and genetic relationships among 21 cultivars of three species of marigold (
Tagetes patula
,
T. erecta
and
T. tenuifolia
) were analysed. Results have revealed obvious differences among genotypes, starting from the morphological characteristics of the seeds and their capacity to germinate to adult plant morphological characteristics, both between cultivars and species. The genotypic differences were manifested in considerable variation in the development of phenological stages and the main morphological traits of plants and flowers. PCA and hierarchical clustering analyses of morphological traits revealed a homogeneous grouping of cultivars within each species, except for Orion, belonging to
T. patula
, which was closer to
T. erecta
cultivars. A subset of 13 cultivars from the three species was subjected to SSR analysis, revealing considerable genetic diversity and good separation between
T. patula
on the one side and
T. erecta
and
T. tenuifolia
on the other. The observed heterozygosity was much lower than the expected heterozygosity, revealing a high degree of fixation. The results reveal that the three species evaluated have considerable morphological and genetic diversity, which has important implications for assessing genetic diversity, conserving germplasm and selecting parents for new breeding works in marigolds.
Full article
►

▼

Show Figures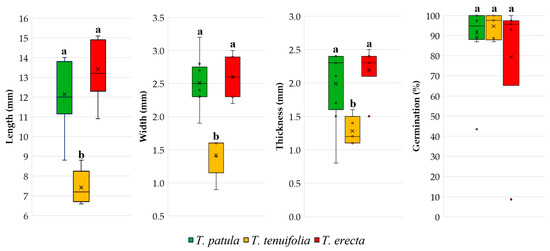 Figure 1