Conferences
Upcoming MDPI Conferences (1)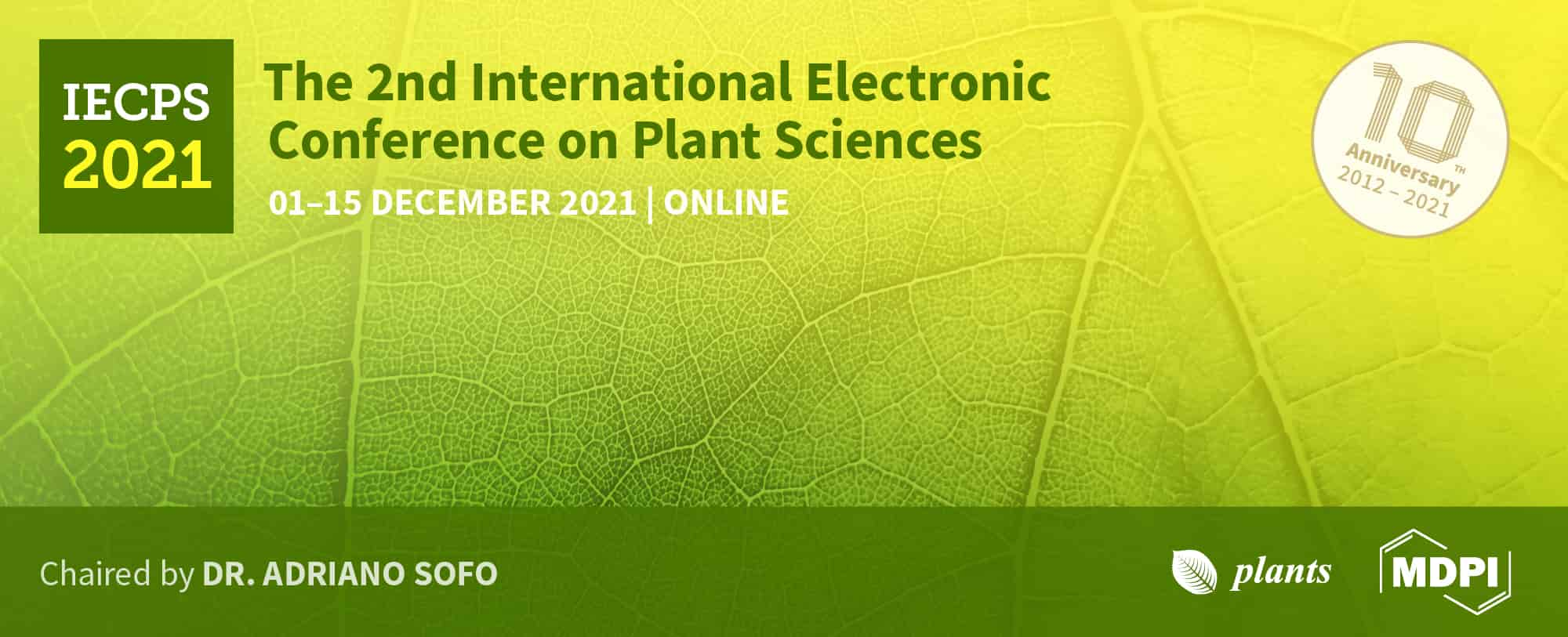 1–15 December 2021
The 2nd International Electronic Conference on Plant Sciences—10th Anniversary of Journal Plants
Online
The 2nd International Electronic Conference on Plant Sciences—10th Anniversary of Journal Plants will be held online from 1 to 15 December 2021. This event enables the researchers of plant science to present their research and exchange ideas with their colleagues without the need to travel. All proceedings will be published on the conference homepage in an open access format.
Through this event, we aim to cover the following topics:
Plant Physiology, Signalling and Communication;
Plant Ecology, Biodiversity and Developmental Biology;
Plant Response to Stresses and Changing Environment;
Phytochemistry and Phytoremediation, Plants in Urban Ecosystems;
Plant Nutrition and Plant–Soil–Microorganism Interactions.
The conference will be completely free of charge—both to attend and for scholars to upload and present their latest work on the conference platform. All accepted proceedings papers will be published as one dedicated volume in the MDPI Biology and Life Sciences Forum journal. Publication of proceedings paper is free of charge. There will also be the possibility to submit selected papers to the journal Plants (ISSN 2223-7747; CODEN: PLANCD; Impact Factor: 3.935 (JCR 2020)) with a 200 CHF discount on the APC.
IECPS2021 offers you the opportunity to participate in this international, scholarly conference without having the concern or expenditure of travel—all you need is your computer and access to the Internet. We would like to invite you to "attend" this conference and present your latest work.
Abstracts (in English) should be submitted by 8 September 2021 online at http://www.sciforum.net/login. For accepted abstracts, the full paper can be submitted by 20 October 2021. The conference proceedings papers and presentations will be available on Sciforum for discussion during the time of the conference (1–15 December 2021).
We hope you will be able to join this exciting event and support us in making it a success.
Plants announces selected third-party conferences. In case you would like to announce your own event on the Plants website, please fill out the following form to apply for the announcement of a conference or other academic event (seminar, workshop).
Upcoming Partner Conferences (2)

12–16 June 2022
8th International Symposium on Structure and Function of Roots
High Tatras, Slovakia
During the past decades seven International Symposia on Structure and Function of Roots have been organized by Slovak scientists focused on root research. The eighth International symposium on Structure and Function of Roots which will be held in the picturesque High Tatra Mountains of Slovakia between 12–16 September 2021.
The topics of the symposium will include:
Root anatomy and morphology
Root growth and development
Uptake and translocation of essential and beneficial elements
Environment and roots
Rhizosphere
The meeting will be hosted by the Department of Plant Physiology, Comenius University in Bratislava (DPP), Plant Science and Biodiversity Center, Slovak Academy of Sciences (PSBC), Institute of Chemistry, Slovak Academy of Sciences (IC), and Slovak Botanical Society SAS (SBS) in the High Tatras.
We look forward to welcoming you to the symposium.

20–23 June 2022
20th International Sunflower Conference
Novi Sad, Serbia
20th International Sunflower Conference (ISC2020) to be held on 20–23 June 2022 in Novi Sad, Serbia. This conference is organized by the Institute of Field and Vegetable Crops Novi Sad (IFVCNS), Serbia in collaboration with ISA. ISC2020 continues the long tradition of conferences on sunflower and provides the opportunity for sunflower people from all over the world to meet once again.
The conference sessions will be designed to attract common interests and create synergy among different disciplines in the sunflower research. They will include presentations and posters on cutting edge sunflower research and cover latest findings in plant breeding, crop protection, climatic stress, seed quality and many other topics. We encourage participants to exchange information and ideas in order to meet potential collaborators and maximize the conference networking potential.