Bacterial Biotransformation of Oleic Acid: New Findings on the Formation of γ-Dodecalactone and 10-Ketostearic Acid in the Culture of Micrococcus luteus
Abstract
Microbial conversion of oleic acid (
1
) to form value-added industrial products has gained increasing scientific and economic interest. So far, the production of natural lactones with flavor and fragrance properties from fatty acids by non-genetically modified organisms (non-GMO) involves whole cells
[...] Read more.
Microbial conversion of oleic acid (
1
) to form value-added industrial products has gained increasing scientific and economic interest. So far, the production of natural lactones with flavor and fragrance properties from fatty acids by non-genetically modified organisms (non-GMO) involves whole cells of bacteria catalyzing the hydration of unsaturated fatty acids as well as yeast strains responsible for further β-oxidation processes. Development of a non-GMO process, involving a sole strain possessing both enzymatic activities, significantly lowers the costs of the process and constitutes a better method from the customers' point of view regarding biosafety issues. Twenty bacteria from the genus of
Bacillus
,
Comamonas
,
Dietzia
,
Gordonia
,
Micrococcus
,
Pseudomonas
,
Rhodococcus
and
Streptomyces
were screened for oxidative functionalization of oleic acid (
1
).
Micrococcus luteus
PCM525 was selected as the sole strain catalyzing the one-pot transformation of oleic acid (
1
) into natural valuable peach and strawberry-flavored γ-dodecalactone (
6
) used in the food, beverage, cosmetics and pharmaceutical industries. Based on the identified products formed during the process of biotransformation, we clearly established a pathway showing that oleic acid (
1
) is hydrated to 10-hydroxystearic acid (
2
), then oxidized to 10-ketostearic acid (
3
), giving 4-ketolauric acid (
4
) after three cycles of β-oxidation, which is subsequently reduced and cyclized to γ-dodecalactone (
6
) (Scheme 1). Moreover, three other strains (
Rhodococcus erythropolis
DSM44534,
Rhodococcus ruber
PCM2166,
Dietzia
sp. DSM44016), with high concomitant activities of oleate hydratase and alcohol dehydrogenase, were identified as efficient producers of 10-ketostearic acid (
3
), which can be used in lubricant and detergent formulations. Considering the prevalence of γ-dodecalactone (
6
) and 10-ketostearic acid (
3
) applications and the economic benefits of sustainable management, microbial bioconversion of oleic acid (
1
) is an undeniably attractive approach.
Full article
►

▼

Show Figures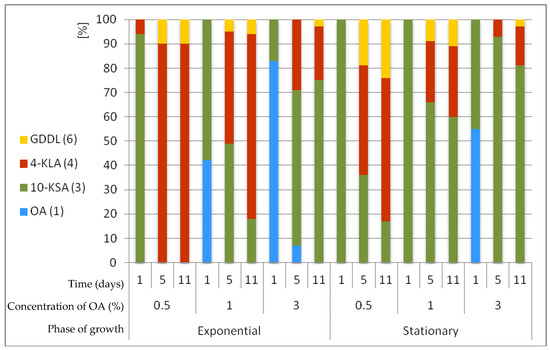 Figure 1