Open Access
Article
Hydrothermal Disintegration and Extraction of Different Microalgae Species
Received: 17 December 2017 / Revised: 28 January 2018 / Accepted: 11 February 2018 / Published: 20 February 2018
PDF Full-text (1345 KB) | HTML Full-text | XML Full-text
Abstract
For the disintegration and extraction of microalgae to produce lipids and biofuels, a novel processing technology was investigated. The utilization of a hydrothermal treatment was tested on four different microalgae species (Scenedesmus rubescens, Chlorella vulgaris, Nannochloropsis oculata and Arthorspira platensis (Spirulina))
[...] Read more.
For the disintegration and extraction of microalgae to produce lipids and biofuels, a novel processing technology was investigated. The utilization of a hydrothermal treatment was tested on four different microalgae species (
Scenedesmus rubescens, Chlorella vulgaris, Nannochloropsis oculata and Arthorspira platensis (Spirulina)
) to determine whether it has an advantage in comparison to other disintegration methods for lipid extraction. It was shown, that hydrothermal treatment is a reasonable opportunity to utilize microalgae without drying and increase the lipid yield of an algae extraction process. For three of the four microalgae species, the extraction yield with a prior hydrothermal treatment elevated the lipid yield up to six times in comparison to direct extraction. Only
Scenedesmus rubescens
showed a different behaviour. Reason can be found in the different cell wall of the species. The investigation of the differences in cell wall composition of the used species indicate that the existence of algaenan as a cell wall compound plays a major role in stability.
Full article
►

▼

Figures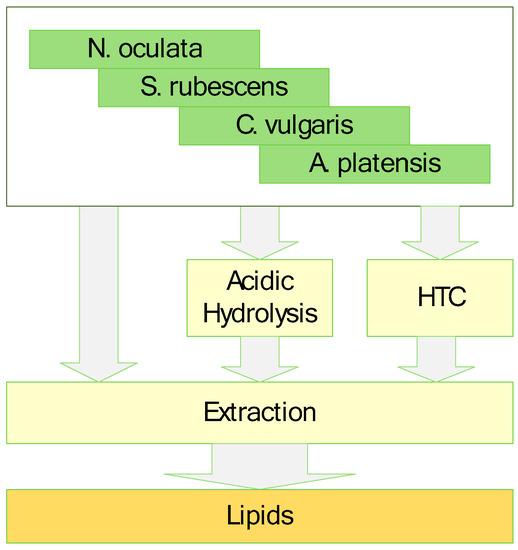 Figure 1