Imaging Diagnostics Coupled with Non-Invasive and Micro-Invasive Analyses for the Restoration of Ethnographic Artifacts from French Polynesia
Abstract
In this paper, two different objects from the ethnographic collection of the museum of the Congregation of the Sacred Hearts of Jesus and Mary (Rome), a Polynesian barkcloth (tapa) and a Polynesian headdress in feathers (
pa'e ku'a
), were investigated to characterize
[...] Read more.
In this paper, two different objects from the ethnographic collection of the museum of the Congregation of the Sacred Hearts of Jesus and Mary (Rome), a Polynesian barkcloth (tapa) and a Polynesian headdress in feathers (
pa'e ku'a
), were investigated to characterize the materials, to evaluate their state of conservation and address the restoration activities. Imaging methods such as multispectral imaging, 3D ultraviolet induced fluorescence and scanning electron microscopy have been integrated with analytical techniques such as X-ray fluorescence spectroscopy, Fourier transform infrared and surface enhanced Raman spectroscopy. Imaging investigations allowed us to differentiate constitutive materials and study their distribution, such as the yellow dye in the tapa used to trace the geometrical pattern and the psittacofulvins responsible for the feathers' colors in the headdress. The combination of molecular spectroscopy, supported by observation under a scanning electron microscope, allowed us to propose a characterization of the organic painting materials (
Morinda citrifolia
,
Curcuma longa
) used for the tapa, and of the type of feathers (from
Vini kuhlii
bird) and vegetal fibers (
Cocos nucifera
L.) used to realize the headdress, as well as enabling the identification of degradation products and microorganisms affecting the artifacts before restoration. Fourier transform infrared spectroscopy detected the organic materials used as adhesives for the tapa and headdress: a polysaccharide, probably starch, for the tapa and a natural rubber from
Cerbera manghas
L. for the headdress. The results of the multi-analytic diagnostic campaign enabled the choice of proper restoration materials, compatible with the original ones, and helped us develop effective protocols for the artifacts' conservation, such as laser cleaning of the feathers.
Full article
►

▼

Show Figures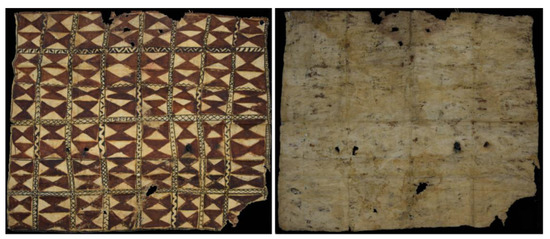 Figure 1