Poor Subjective Sleep Quality Is Associated with Poor Occupational Outcomes in Elite Soldiers
Abstract
We aimed to assess the relationship between subjective sleep quality and occupationally-relevant outcomes in military personnel. Participants were from an elite unit of US Army soldiers who worked extended (~30 h) shifts (with minimal recovery time between shifts) during 3-week work sessions. Questionnaires
[...] Read more.
We aimed to assess the relationship between subjective sleep quality and occupationally-relevant outcomes in military personnel. Participants were from an elite unit of US Army soldiers who worked extended (~30 h) shifts (with minimal recovery time between shifts) during 3-week work sessions. Questionnaires assessing subjective sleep quality during the month prior (Pittsburgh Sleep Quality Index [PSQI]) were administered at the beginning of the session. Occupational outcomes (emotional exhaustion, functional impairment, role overload, daytime sleepiness) were assessed on the final day of the session. Regression analyses were conducted to link sleep quality and occupational outcomes. The study sample participants had relatively poor sleep prior to the exercise (PSQI Global score average = 6.3 ± 3.1). Higher PSQI Global Scores prior to the work session longitudinally predicted daytime sleepiness (
f
2
: 0.56) after the work session. PSQI component 7, which queries daytime dysfunction attributed to poor sleep quality, longitudinally predicted emotional exhaustion, functional impairment, and role overload (
f
2
range: 0.19–0.70). In conclusion, poor sleep quality—in aggregation with occupationally-mandated sleep loss—is predictive of poorer subsequent occupational outcomes. Future work should aim to increase sleep opportunities prior to occupationally-mandated sleep loss in order to build resilience when sleep loss is unavoidable.
Full article
►

▼

Show Figures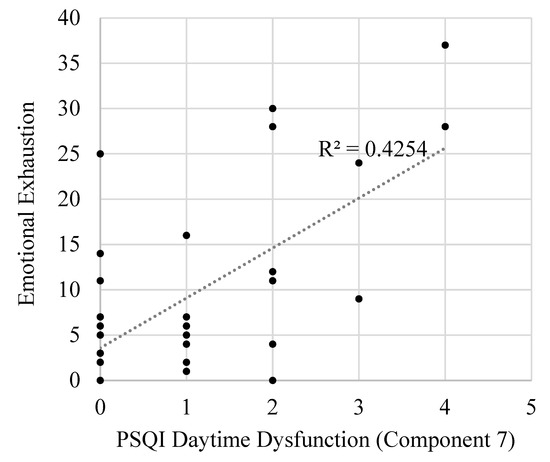 Figure 1