Identification and Molecular Characterization of Novel Mycoviruses in Saccharomyces and Non-Saccharomyces Yeasts of Oenological Interest
Viewed by 156
Abstract
Wine yeasts can be natural hosts for dsRNA, ssRNA viruses and retrotransposon elements. In this study, high-throughput RNA sequencing combined with bioinformatic analyses unveiled the virome associated to 16
Saccharomyces cerevisiae
and 8 non-
Saccharomyces
strains of oenological interest. Results showed the presence
[...] Read more.
Wine yeasts can be natural hosts for dsRNA, ssRNA viruses and retrotransposon elements. In this study, high-throughput RNA sequencing combined with bioinformatic analyses unveiled the virome associated to 16
Saccharomyces cerevisiae
and 8 non-
Saccharomyces
strains of oenological interest. Results showed the presence of six viruses and two satellite dsRNAs from four different families, two of which—
Partitiviridae
and
Mitoviridae
—were not reported before in yeasts, as well as two ORFan contigs of viral origin. According to phylogenetic analysis, four new putative mycoviruses distributed in
Totivirus
,
Cryspovirus,
and
Mitovirus
genera were identified. The majority of commercial
S. cerevisiae
strains were confirmed to be the host for helper L-A type totiviruses and satellite M dsRNAs associated with the killer phenotype, both in single and mixed infections with L-BC totiviruses, and two viral sequences belonging to a new cryspovirus putative species discovered here for the first time. Moreover, single infection by a narnavirus 20S-related sequence was also found in one
S. cerevisiae
strain. Considering the non-
Saccharomyces
yeasts,
Starmerella bacillaris
hosted four RNAs of viral origin—two clustering in
Totivirus
and
Mitovirus
genera, and two ORFans with putative satellite behavior. This study confirmed the infection of wine yeasts by viruses associated with useful technological characteristics and demonstrated the presence of complex mixed infections with unpredictable biological effects.
Full article
►

▼

Show Figures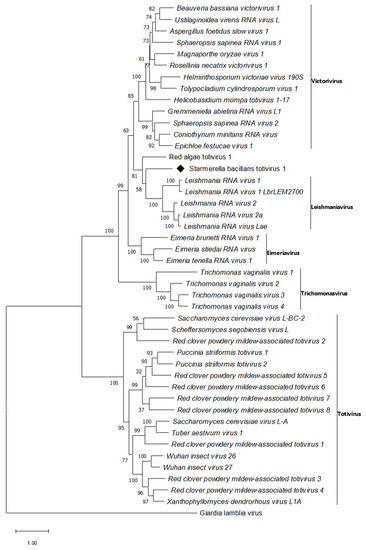 Figure 1