Description of a Novel Mycovirus in the Phytopathogen Fusarium culmorum and a Related EVE in the Yeast Lipomyces starkeyi
Cited by 1
Abstract
A new mycovirus was found in the
Fusarium culmorum
strain A104-1 originally sampled on wheat in Belgium. This novel virus, for which the name Fusarium culmorum virus 1 (FcV1) is suggested, is phylogenetically related to members of the previously proposed family ''Unirnaviridae''. FcV1
[...] Read more.
A new mycovirus was found in the
Fusarium culmorum
strain A104-1 originally sampled on wheat in Belgium. This novel virus, for which the name Fusarium culmorum virus 1 (FcV1) is suggested, is phylogenetically related to members of the previously proposed family ''Unirnaviridae''. FcV1 has a monopartite dsRNA genome of 2898 bp that harbors two large non-overlapping ORFs. A typical -1 slippery motif is found at the end of ORF1, advocating that ORF2 is translated by programmed ribosomal frameshifting. While ORF2 exhibits a conserved replicase domain, ORF1 encodes for an undetermined protein. Interestingly, a hypothetically transcribed gene similar to unirnaviruses ORF1 was found in the genome of
Lipomyces starkeyi
, presumably resulting from a viral endogenization in this yeast. Conidial isolation and chemical treatment were unsuccessful to obtain a virus-free isogenic line of the fungal host, highlighting a high retention rate for FcV1 but hindering its biological characterization. In parallel, attempt to horizontally transfer FcV1 to another strain of
F. culmorum
by dual culture failed. Eventually, a screening of other strains of the same fungal species suggests the presence of FcV1 in two other strains from Europe.
Full article
►

▼

Show Figures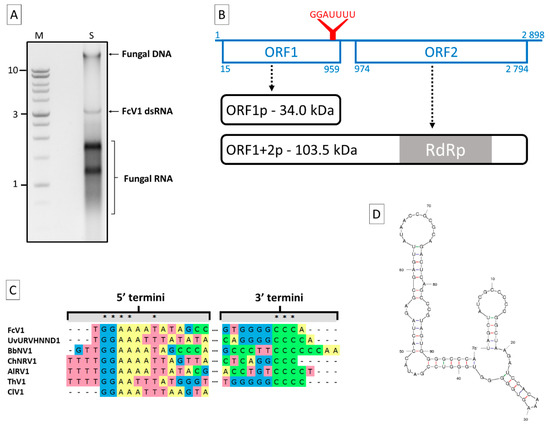 Figure 1