Conferences
Upcoming MDPI Conferences (1)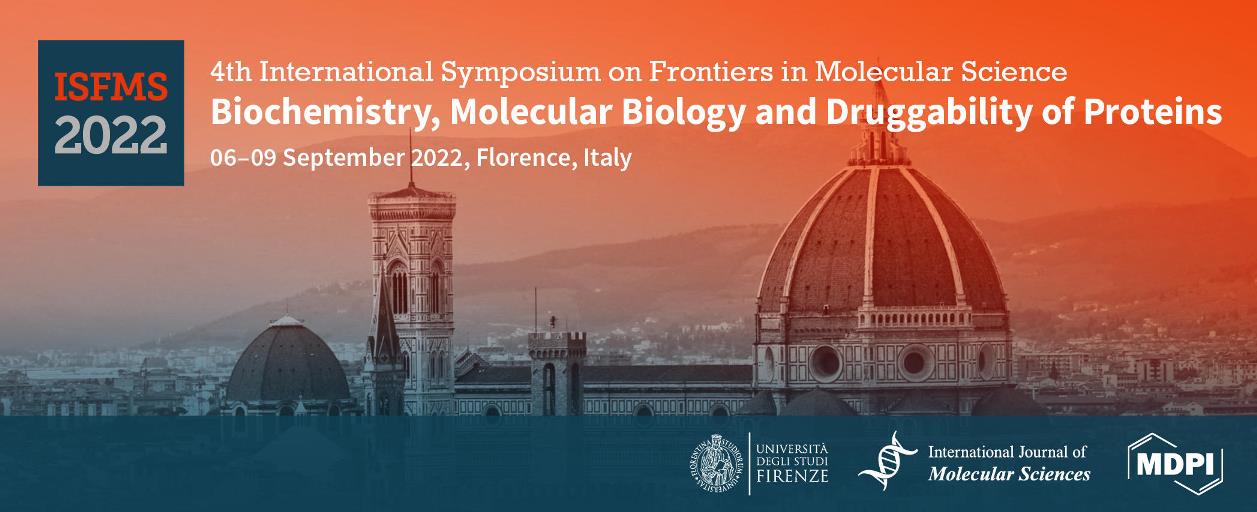 6–9 September 2022
The 4th ISFMS: Biochemistry, Molecular Biology and Druggability of Proteins
Florence, Italy
We would like to invite you to The 4th ISFMS: Biochemistry, Molecular Biology and Druggability of Proteins, which will be held in the wonderful city of Florence, Italy, in the period September 6–9, 2022. The conference will be hosted at the University of Florence, in the biomedical campus nearby the main city hospital, which is easily accessible from the airport, train station or city center. Apart the high quality science which will be presented during the event, our fantastic location will afford the possibility to visit the city in which Leonardo da Vinci, Michelangelo and Galileo Galilei (to mention just a few personalities) lived and created some of their unique artistic and scientific masterpieces. The friendly and peaceful atmosphere of our city will surely favor nice scientific interactions and the possibility to establish interesting contacts with scientists from all over the world in a collaborative manner.
Viruses announces selected third-party conferences. In case you would like to announce your own event on the Viruses website, please fill out the following form to apply for the announcement of a conference or other academic event (seminar, workshop).
Upcoming Partner Conferences (3)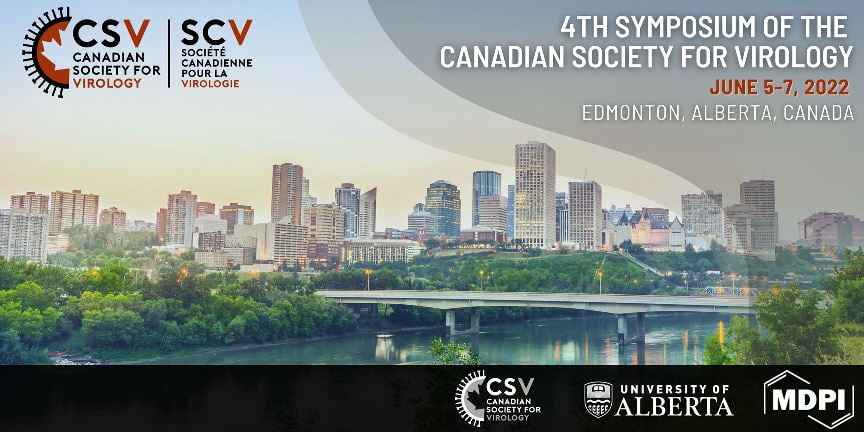 5–7 June 2022
4th Symposium of the Canadian Society for Virology
University of Alberta Campus | Edmonton, Alberta
We would like to invite you to the 4th Symposium of the Canadian Society for Virology taking place in Edmonton, Alberta, Canada on June 5-7, 2022. The Symposium will be hosted at multiple venues at the University of Alberta Campus, which is centrally located and easily accessible by the city's public LRT Transit system. In addition to an excellent lineup of speakers and conveners, delegates will have the opportunity to explore Edmonton's beautiful summer seasons and take in the River Valley, North America's largest stretch of Urban Parkland. Known as "Festival City", Edmonton always has some exciting events to take in during the evenings. With virologists attending from across the country, there will be ample opportunity to collaborate, network, and enjoy the camaraderie at this bi-annual Symposium.

14–17 June 2022
XVIII International Parvovirus Workshop
Rimini, Italy
The XVIII International Parvovirus Workshop will open soon in Rimini, Italy, from 14 to 17 June 2022 as an on-site event.
Registration deadline is 13 May 2022 (or 150 delegates, whichever occurs first)
Abstract submission deadline is 30 April 2022
The on-site event will allow continuing the best tradition of the Parvovirus Workshops, offering the widest opportunity for scientists to meet, discuss, and create networks. The main topics and the scientific program will offer plenty of opportunities to present the newest research and discuss all aspects of research on parvoviruses.
Scientific sessions will include: New parvoviruses and evolution; parvovirus structure; DNA replication and gene expression; viral entry, trafficking, assembly; virus-host interactions; clinical and veterinarian parvovirology; gene therapy; oncolytic viruses.
A Special Issue of the Journal Viruses on "Advances in Parvovirus Research 2022", associated with the conference, is also open to submissions.
The XVIII International Parvovirus Workshop will be dedicated to the memory of our dearest colleague Mavis Agbandje-McKenna.
For information on the preliminary program and scientific sessions, registration, and abstract submission, visit the official meeting website: https://www.parvovirusworkshop2022.org/
All information on the website is currently being updated on a regular basis, so do keep visiting for the latest information.
If you have any further question, do not hesitate to contact the organizing committee directly.
We look forward to meeting you in Rimini!
On behalf of the Organizing Committee,
Giorgio Gallinella and Antonio Marchini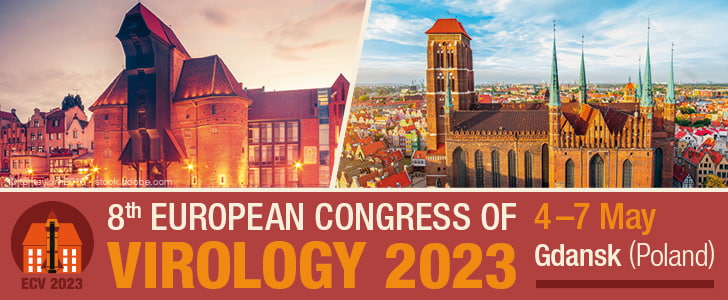 4–7 May 2023
8th European Congress of Virology 2023
Gdansk, Poland
Dear Respected Academics and Researchers,
On behalf of the organizing committee, we are pleased to announce that the 8th European Congress of Virology 2022 will be held in Gdansk, Poland, on 4–7 May 2023.
Online Presentations
ECV 2023 will provide an opportunity for European virologists, representing various fields of research, to meet, present their results, and discuss the latest developments in virology, which have happened during this unusual time. It will also be a great opportunity to meet friends, reconvene with old acquaintances, and establish new collaborations. With the support of the International Scientific Committee, we strive to create a high-quality, interesting and informative program. Although coronavirus studies will undoubtedly be a focus of ECV 2023, it is very important to have all virus species and research areas represented, including basic, clinical, veterinary and plant virology.
You can find more information about this event on the following ECV 2023 website:
https://www.eusv-congress.eu/
All the papers are subject to a rigorous peer-review process by at least two members of the scientific committee or additional reviewers.
We are looking forward to seeing you in Gdansk, Poland.
Best regards,
Organizing Committee of ECV 2023