Feeding-Induced Changes of Bacteriolytic Activity and the Pattern of Bacteriolytic Compounds in the Stomach and Small Intestine of the Haematophagous Bug Triatoma infestans (Klug, 1834) (Reduviidae, Triatominae)
Abstract
Intestinal homeostasis mechanisms of the haematophagous triatomines regulate the development of mutualistic symbionts and other gut bacteria. Investigating antimicrobial compounds of these insects, we have determined spectrophotometrically that the bacteriolytic activity is between pH 3 and pH 9 using homogenates of fifth instar
[...] Read more.
Intestinal homeostasis mechanisms of the haematophagous triatomines regulate the development of mutualistic symbionts and other gut bacteria. Investigating antimicrobial compounds of these insects, we have determined spectrophotometrically that the bacteriolytic activity is between pH 3 and pH 9 using homogenates of fifth instar
Triatoma infestans
stomachs and small intestines from unfed bugs and up to 50 days after feeding. The activity against Gram-positive
Micrococcus luteus
was strongest at pH 4 and pH 7 and was higher in the stomach than in the small intestine. Symbiotic
Rhodococcus triatomae
were not lysed. Lysis of Gram-negative
Escherichia coli
showed a maximum at pH 7 in the stomach and at pH 5 in the small intestine. Bacteriolytic activity against both
M. luteus
and
E. coli
was reduced 24 h after feeding, then increased, and at 50 days after feeding was strongly reduced. In zymographs, the activity against
M. luteus
was mainly correlated to proteins of about 16 kDa. At different periods of time after feeding, seven bands of lysis appeared between 15 and 40 kDa and more bands using extracts of the small intestine than those of the stomach. This is the first proof for the synthesis of antibacterial proteins of 22–40 kDa in triatomines.
Full article
►

▼

Show Figures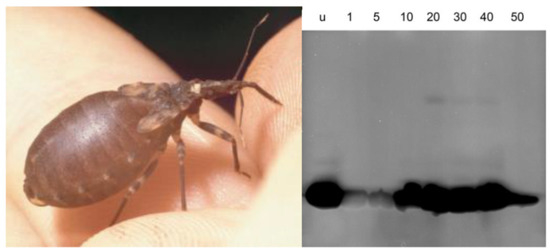 Graphical abstract