Phenolic Compounds as Phytochemical Tracers of Varietal Origin of Some Autochthonous Apple Cultivars Grown in Serbia
Cited by 1
| Viewed by 1035
Abstract
Domesticated international (standard) apple cultivars, together with resistant apple cultivars are the core of the Serbian apple production. Furthermore, autochthonous cultivars are characterized by a good adaptability to the local environmental conditions and represent a valuable source of genetic variability, as well as
[...] Read more.
Domesticated international (standard) apple cultivars, together with resistant apple cultivars are the core of the Serbian apple production. Furthermore, autochthonous cultivars are characterized by a good adaptability to the local environmental conditions and represent a valuable source of genetic variability, as well as an important source of the gene pool for further breeding programs. Additionally, they show a higher phenolic content and a stronger antioxidant activity, in comparison to commercial cultivars. Therefore, they are more likely to be used as a functional food. The subjects of this study were seventeen samples of fruits and leaves from autochthonous apple cultivars, five international standard cultivars, and six resistant apple cultivars. The phenolic profile was determined using ultra-high performance liquid chromatography (UHPLC), coupled with a diode array detector and a TSQ Quantum Access Max triple-quadrupole mass spectrometer. A total of twenty compounds were quantified in the samples. Most of the analyzed phenolics were detected in higher amounts in the peel, compared to the mesocarp. The results of the multivariate analysis of variance (MANOVA) indicate that 5-
O
-caffeoylquinic acid is present in the highest amount in the mesocarp, while in the peel and leaves, quercetin-glycosides were detected in the highest amount. According to the MANOVA: phloretin, phlorizin, 5-
O
-caffeoylquinic acid, kaempferol, and
p
-coumaric acid are present in significantly higher levels in the autochthonous cultivars, compared to the standard and resistant ones (in both fruits and leaves). Therefore, these compounds can be used as chemical tracers of the apple varietal origin.
Full article
►

▼

Show Figures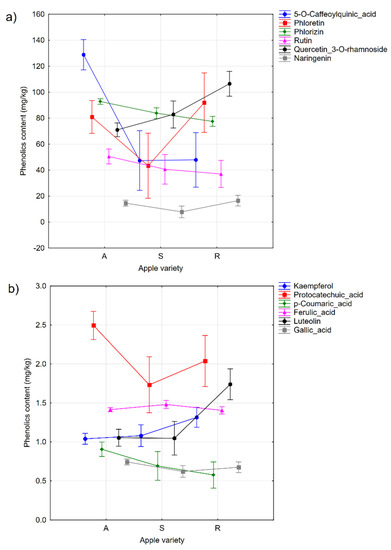 Figure 1