Phytochemical Analysis, Antioxidant and Enzyme-Inhibitory Activities, and Multivariate Analysis of Insect Gall Extracts of Picea koraiensis Nakai
Viewed by 543
Abstract
Picea koraiensis
Nakai (PK) is an evergreen tree. It plays an important role in landscaping and road greening. Insect galls of PK are formed by parasitism of the adelgid
Adelges laricis
. Except for phenolics, other chemical constituents and biological activity of insect
[...] Read more.
Picea koraiensis
Nakai (PK) is an evergreen tree. It plays an important role in landscaping and road greening. Insect galls of PK are formed by parasitism of the adelgid
Adelges laricis
. Except for phenolics, other chemical constituents and biological activity of insect gall from PK are still unknown. Thus, here, we performed phytochemical and biological activity analyses of PK insect gall extracts, aiming to turn waste into treasure and serve human health. PK insect gall extracts were prepared using seven solvents. Antioxidant activities of the extracts were examined via antioxidant assays (radical and oxidizing substance quenching, metal chelating, and reducing power). The inhibitory activities of the extracts were determined toward the key human-disease-related enzymes
α
-glucosidase,
α
-amylase, cholinesterase, tyrosinase, urease, and xanthine oxidase. The content of numerous active constituents was high in the methanol and ethanol extracts of PK insect gall, and these extracts had the highest antioxidant and enzyme-inhibitory activities. They also showed excellent stability and low toxicity. These extracts have potential for use as stabilizers of olive and sunflower seed oils.
Full article
►

▼

Show Figures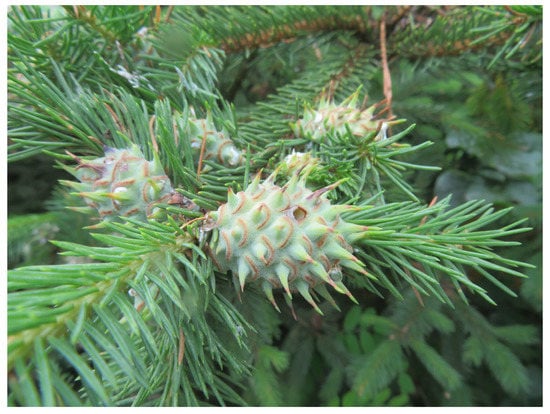 Figure 1