Open Access
Article
Daphnauranins C–E, Three New Antifeedants from Daphne aurantiaca Roots
Received: 11 September 2018 / Accepted: 20 September 2018 / Published: 21 September 2018
PDF Full-text (572 KB) | HTML Full-text | XML Full-text | Supplementary Files
Abstract
Daphnauranins C–E (compounds 1–3), two sesquiterpenoids and one monoterpenoid were isolated from the roots of Daphne aurantiaca Diels. Daphnauranin C is a 9-O-13 etherified and hydroperoxy-substituted guaiane sesquiterpenoid, daphnauranin D is a guaiane sesquiterpenoid ketal, and daphnauranin E
[...] Read more.
Daphnauranins C–E (compounds
1
–
3
), two sesquiterpenoids and one monoterpenoid were isolated from the roots of
Daphne aurantiaca
Diels. Daphnauranin C is a 9-
O
-13 etherified and hydroperoxy-substituted guaiane sesquiterpenoid, daphnauranin D is a guaiane sesquiterpenoid ketal, and daphnauranin E is a monoterpenoid lactone. Their structures were elucidated by comprehensive analyses of MS, 1D NMR, and 2D NMR spectroscopic data. In an anti-feeding activities test, daphnauranins C–E showed activity against male fruit fly with anti-feeding indexes (AI) up to 39.1, 39.2, and 27.8% respectively, at 1 mM.
Full article
►

▼

Figures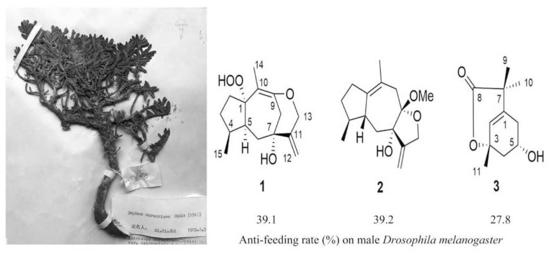 Graphical abstract