Open Access
Article
Characterization and Prebiotic Potential of Longan Juice Obtained by Enzymatic Conversion of Constituent Sucrose into Fructo-Oligosaccharides
Received: 31 August 2018 / Revised: 2 October 2018 / Accepted: 7 October 2018 / Published: 10 October 2018
PDF Full-text (1674 KB) | HTML Full-text | XML Full-text
Abstract
The prebiotic potential of longan juice obtained by a commercial Viscozyme L for conversion of constituent sucrose to fructo-oligosaccharide was investigated. The physicochemical properties and carbohydrate composition of the longan juice was evaluated before and after enzymatic treatment. The stimulation effects of the
[...] Read more.
The prebiotic potential of longan juice obtained by a commercial Viscozyme L for conversion of constituent sucrose to fructo-oligosaccharide was investigated. The physicochemical properties and carbohydrate composition of the longan juice was evaluated before and after enzymatic treatment. The stimulation effects of the treated longan juice on probiotic bacteria growth were also studied in vitro. The results showed that total soluble solids, yield and clarity of longan juice were all significantly improved after enzyme treatment. The water-soluble polysaccharide content, including pectin, was significantly increased. Compared with the natural longan pulp, the enzyme treated juice showed a significant decrease in sucrose content. Substantial fructo-oligosaccharides including 1-kestose and nystose were synthesized after enzyme treatment. The molecular weight distribution and the monosaccharide composition of the water-soluble polysaccharide were significantly changed by enzyme treatment. The treated longan juice and its ethanol-soluble sugar fraction promoted the growth of
Streptococus thermophiles
,
Lactobacillus acidophilus
and
Lactobacillus delbrueckii
, showing a good potential of the treated longan juice for producing functional foods and nutraceuticals.
Full article
►

▼

Figures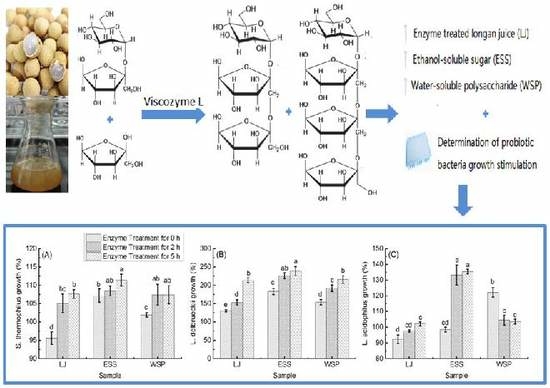 Graphical abstract