Broussoflavonol B from Broussonetia kazinoki Siebold Exerts Anti-Pancreatic Cancer Activity through Downregulating FoxM1
Abstract
Pancreatic cancer has a high mortality rate due to poor rates of early diagnosis. One tumor suppressor gene in particular, p53, is frequently mutated in pancreatic cancer, and mutations in p53 can inactivate normal wild type p53 activity and increase expression of transcription
[...] Read more.
Pancreatic cancer has a high mortality rate due to poor rates of early diagnosis. One tumor suppressor gene in particular, p53, is frequently mutated in pancreatic cancer, and mutations in p53 can inactivate normal wild type p53 activity and increase expression of transcription factor forkhead box M1 (FoxM1). Overexpression of FoxM1 accelerates cellular proliferation and cancer progression. Therefore, inhibition of FoxM1 represents a therapeutic strategy for treating pancreatic cancer. Broussoflavonol B (BF-B), isolated from the stem bark of
Broussonetia kazinoki
Siebold has previously been shown to inhibit the growth of breast cancer cells. This study aimed to investigate whether BF-B exhibits anti-pancreatic cancer activity and if so, identify the underlying mechanism. BF-B reduced cell proliferation, induced cell cycle arrest, and inhibited cell migration and invasion of human pancreatic cancer PANC-1 cells (p53 mutated). Interestingly, BF-B down-regulated FoxM1 expression at both the mRNA and protein level. It also suppressed the expression of FoxM1 downstream target genes, such as cyclin D1, cyclin B1, and survivin. Cell cycle analysis showed that BF-B induced the arrest of G0/G1 phase. BF-B reduced the phosphorylation of extracellular signal-regulated kinase ½ (ERK½) and expression of ERK½ downstream effector c-Myc, which regulates cell proliferation. Furthermore, BF-B inhibited cell migration and invasion, which are downstream functional properties of FoxM1. These results suggested that BF-B could repress pancreatic cancer cell proliferation by inactivation of the ERK/c-Myc/FoxM1 signaling pathway. Broussoflavonol B from
Broussonetia kazinoki
Siebold may represent a novel chemo-therapeutic agent for pancreatic cancer.
Full article
►

▼

Show Figures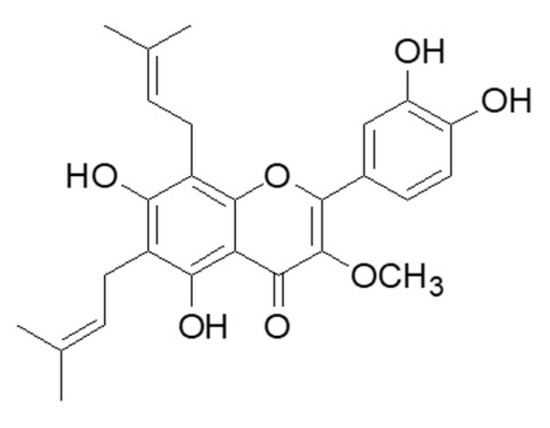 Figure 1