Open Access
Feature Paper
Article
Anatolicin, a Highly Potent and Selective Cytotoxic Sesquiterpene Coumarin from the Root Extract of Heptaptera anatolica
Received: 24 February 2019 / Revised: 14 March 2019 / Accepted: 19 March 2019 / Published: 23 March 2019
PDF Full-text (1308 KB) | HTML Full-text | XML Full-text | Supplementary Files
Abstract
Seven known sesquiterpene coumarins and a new sesquiterpene coumarin, anatolicin (
8
), were isolated from the dichloromethane extract of the roots of
Heptaptera anatolica
. Structures of these compounds were elucidated based on their spectral properties. While some of these sesquiterpene coumarins
[...] Read more.
Seven known sesquiterpene coumarins and a new sesquiterpene coumarin, anatolicin (
8
), were isolated from the dichloromethane extract of the roots of
Heptaptera anatolica
. Structures of these compounds were elucidated based on their spectral properties. While some of these sesquiterpene coumarins showed modest cytotoxic activity against COLO205, KM12, A498, UO31, and TC32 cancer cell lines, selective cytotoxicity of anatolicin (
8
) and 14′-acetoxybadrakemin (
7
) were observed at nanomolar level against the UO31 kidney cancer cell line.
Full article
►

▼

Figures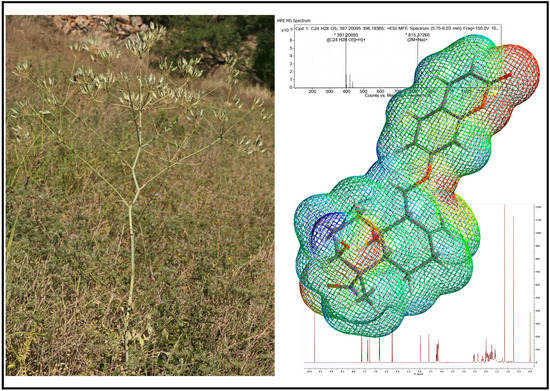 Graphical abstract