Open Access
Article
Chromaticity-Tunable and Thermal Stable Phosphor-in-Glass Inorganic Color Converter for High Power Warm w-LEDs
Received: 12 August 2018 / Revised: 12 September 2018 / Accepted: 14 September 2018 / Published: 21 September 2018
PDF Full-text (4389 KB) | HTML Full-text | XML Full-text | Supplementary Files
Abstract
In this work, an aluminate silicate garnet phosphor, Y
2
Mg
2
Al
2
Si
2
O
12
:Ce
3+
(YMASG:Ce
3+
), exhibiting strong and broad yellow-orange emission, was successfully synthesized. Attributed to the double cation substitution of YAG:Ce
3+
, which
[...] Read more.
In this work, an aluminate silicate garnet phosphor, Y
2
Mg
2
Al
2
Si
2
O
12
:Ce
3+
(YMASG:Ce
3+
), exhibiting strong and broad yellow-orange emission, was successfully synthesized. Attributed to the double cation substitution of YAG:Ce
3+
, which led to a compression effect, a redshift was observed with respect to YAG:Ce
3+
. More importantly, a transparent phosphor-in-glass (PiG) sample was obtained by incorporating the phosphor YMASG:Ce
3+
into a special low-melting precursor glass. The energy dispersive spectrometer (EDS) mapping analysis of the as-prepared PiG sample indicates that YMASG:Ce
3+
was successfully incorporated into the glass host, and its powders were uniformly distributed in glass. The photoluminescence intensity of the PiG sample was higher than that of the powder due to its relatively high thermal conductivity. Additionally, the combination of the PiG sample and a blue high-power chip generated a modular white LED with a luminous efficacy of 54.5 lm/W, a correlated color temperature (CCT) of 5274 K, and a color rendering index (CRI) of 79.5 at 350 mA.
Full article
►

▼

Figures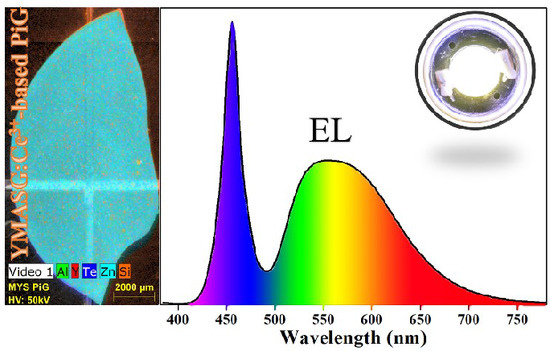 Graphical abstract