Structure and Photoluminescence Properties of Thermally Synthesized V2O5 and Al-Doped V2O5 Nanostructures
Cited by 1
| Viewed by 555
Abstract
Al-free and Al-doped V
2
O
5
nanostructures were synthesized by a thermal-chemical vapor deposition (CVD) process on Si(100) at 850 °C under 1.2 × 10
−1
Torr via a vapor-solid (V-S) mechanism. X-ray diffraction (XRD), Raman, and high-resolution transmission electron microscopy (HRTEM)
[...] Read more.
Al-free and Al-doped V
2
O
5
nanostructures were synthesized by a thermal-chemical vapor deposition (CVD) process on Si(100) at 850 °C under 1.2 × 10
−1
Torr via a vapor-solid (V-S) mechanism. X-ray diffraction (XRD), Raman, and high-resolution transmission electron microscopy (HRTEM) confirmed a typical orthorhombic V
2
O
5
with the growth direction along [110]-direction of both nanostructures. Metallic Al, rather than Al
3+
-ion, was detected by X-ray photoelectron spectroscopy (XPS), affected the V
2
O
5
crystallinity. The photoluminescence intensity of V
2
O
5
nanostructure at 1.77 and 1.94 eV decreased with the increasing Al-dopant by about 61.6% and 59.9%, attributing to the metallic Al intercalated between the V
2
O
5
-layers and/or filled in the oxygen vacancies, which behaved as electron sinks. Thus the Al-doped V
2
O
5
nanostructure shows the potential applications in smart windows and the electrodic material in a Li-ion battery.
Full article
►

▼

Show Figures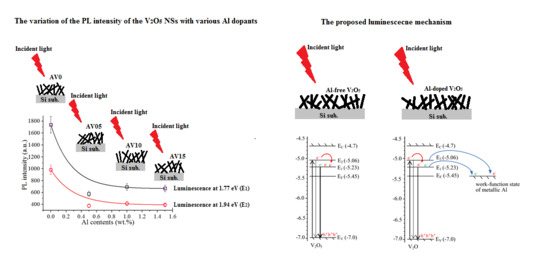 Graphical abstract