Effect of Process Parameters on Electrodeposition Process of Co-Mo Alloy Coatings
Coatings 2023, 13(4), 665; https://doi.org/10.3390/coatings13040665 (registering DOI) - 23 Mar 2023
Abstract
Plating bath composition, temperature, current density, and pH have a great influence on the properties of a Co-Mo alloy coating. However, these conclusions are obtained from the perspective of test results. Most of the factors that affect the properties of the coating operate
[...] Read more.
Plating bath composition, temperature, current density, and pH have a great influence on the properties of a Co-Mo alloy coating. However, these conclusions are obtained from the perspective of test results. Most of the factors that affect the properties of the coating operate by interfering with the electrodeposition process. Therefore, it is of great significance to study the kinetics of the electrodeposition process. To further study the influence of process parameters on the deposition process of Co-Mo alloy coatings, cyclic voltammetry (CV), scanning linear voltammetry (LSV), and electrochemical impedance testing (EIS) were used to study the deposition kinetics of Co-Mo alloy coatings. The results show that with the increase in sodium molybdate content in the plating solution, more Mo elements are involved in the deposition process. At the same time, a higher Mo element content can reduce the dissolution of the coating as the anode and improve the service life of the coating, but too high a Mo element content will lead to cracks on the surface of the coating. The deposition temperature will affect the processes of reduction deposition and oxidation dissolution of the coating. The pH of the plating bath will directly affect the reduction reaction process of MoO
4
2−
ions in the plating bath. With the increase in the pH value, the reduction reaction rate of MoO
4
2−
ions decreases, and the cathodic reduction reaction current density decreases. At the same time, the peak current density of anodizing decreases with the decrease in the pH value of the plating solution, indicating that the alkaline plating solution has an inhibitory effect on the plating dissolution process.
Full article
►

▼

Show Figures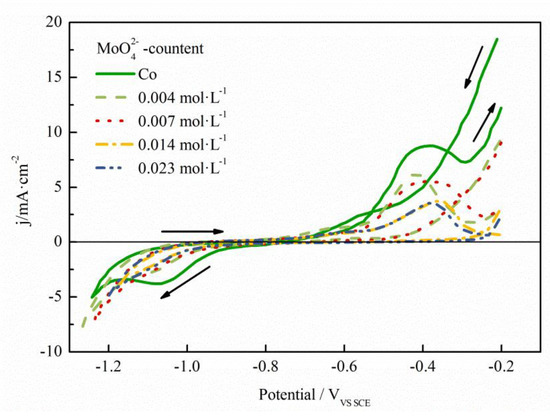 Figure 1