Structure and Electrical Properties of Carbon-Rich Polymer derived Silicon Carbonitride (SiCN)
Ceramics 2022, 5(4), 690-705; https://doi.org/10.3390/ceramics5040050 (registering DOI) - 03 Oct 2022
Abstract
This article reports on the structure and electronic properties of carbon-rich polysilazane polymer-derived silicon carbonitride (C/SiCN) corresponding to pyrolysis temperatures between 1100 and 1600 °C in an argon atmosphere. Raman spectroscopy, X-ray diffraction (XRD), energy dispersive X-ray spectroscopy (EDX), Scanning Electron Microscopy (SEM)
[...] Read more.
This article reports on the structure and electronic properties of carbon-rich polysilazane polymer-derived silicon carbonitride (C/SiCN) corresponding to pyrolysis temperatures between 1100 and 1600 °C in an argon atmosphere. Raman spectroscopy, X-ray diffraction (XRD), energy dispersive X-ray spectroscopy (EDX), Scanning Electron Microscopy (SEM) and Hall measurements were used to support the structural and electronic properties characterization of the prepared C/SiCN nanocomposites. A structural analysis using Raman spectroscopy showed the evolution of sp
2
hybridized carbon phase that resulted from the growth in the lateral crystallite size (L
a
), average continuous graphene length including tortuosity (L
eq
) and inter-defects distance (L
D
) with an increase in pyrolysis temperature. The prepared C/SiCN monoliths showed a record high room temperature (RT) electrical conductivity of 9.6 S/cm for the sample prepared at 1600 °C. The electronic properties of the nanocomposites determined using Hall measurement revealed an anomalous change in the predominant charge carriers from n-type in the samples pyrolyzed at 1100 °C to predominantly p-type in the samples prepared at 1400 and 1600 °C. According to this outcome, tailor-made carbon-rich SiCN polymer-derived ceramics could be developed to produce n-type and p-type semiconductors for development of the next generation of electronic systems for applications in extreme temperature environments.
Full article
►

▼

Show Figures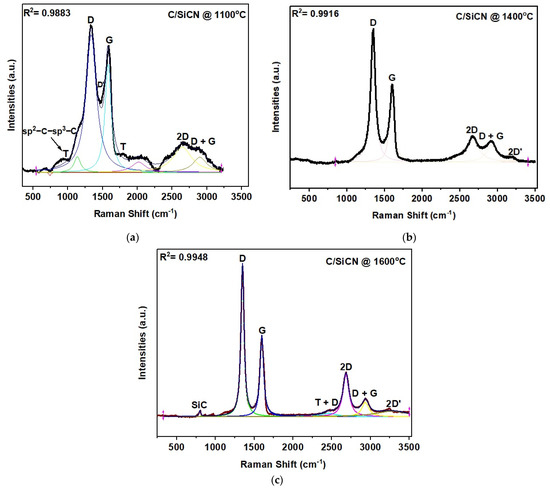 Figure 1