Expression of IL-37 Induces a Regulatory T-Cell-like Phenotype and Function in Jurkat Cells
Cited by 1
| Viewed by 2467
Abstract
The anti-inflammatory cytokine interleukin-37 (IL-37) plays a key role in inhibiting innate and adaptive immunity. Past results have shown that IL-37 is elevated in human Treg cells compared to other T cell subsets and contributes to enhancing the Treg transcription factor, forkhead box
[...] Read more.
The anti-inflammatory cytokine interleukin-37 (IL-37) plays a key role in inhibiting innate and adaptive immunity. Past results have shown that IL-37 is elevated in human Treg cells compared to other T cell subsets and contributes to enhancing the Treg transcription factor, forkhead box protein P3 (FOXP3). However, it is unknown if ectopic expression of IL-37 in non-Treg CD4+ T cells can lead to the development of Treg phenotype and function. In the present study, we used a PrimeFlow
®
RNA assay and confirmed elevated
IL37
expression in human Treg cells. We then stably transfected the non-Treg CD4+ T cell leukemia cell line, E6 Jurkat cells, with
IL37
and found significant induction of the Treg phenotype. These IL-37-expressing Jurkat cells had elevated CTLA-4 and FOXP3 and produced IL-10. In conjunction with the Treg phenotype, IL-37-expressing Jurkat cells suppressed T cell activation/proliferation, comparable to human primary Treg cells. The creation of this stable human Treg-like cell line has the potential to provide further assistance for in vitro studies of human Treg cells, as it is more convenient than the use of primary human Treg cells. Furthermore, it provides insights into Treg cell biology and function.
Full article
►

▼

Show Figures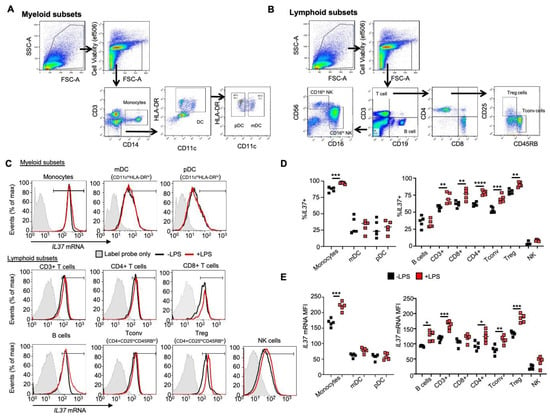 Figure 1