Structural Relationship between Cerebral Gray and White Matter Alterations in Degenerative Cervical Myelopathy
Tomography 2023, 9(1), 315-327; https://doi.org/10.3390/tomography9010025 (registering DOI) - 31 Jan 2023
Abstract
Patients with degenerative cervical myelopathy (DCM) undergo adaptive supraspinal changes. However, it remains unknown how subcortical white matter changes reflect the gray matter loss. The current study investigated the interrelationship between gray matter and subcortical white matter alterations in DCM patients. Cortical thickness
[...] Read more.
Patients with degenerative cervical myelopathy (DCM) undergo adaptive supraspinal changes. However, it remains unknown how subcortical white matter changes reflect the gray matter loss. The current study investigated the interrelationship between gray matter and subcortical white matter alterations in DCM patients. Cortical thickness of gray matter, as well as the intra-cellular volume fraction (ICVF) of subcortical whiter matter, were assessed in a cohort of 44 patients and 17 healthy controls (HCs). The results demonstrated that cortical thinning of sensorimotor and pain related regions is associated with more severe DCM symptoms. ICVF values of subcortical white matter underlying the identified regions were significantly lower in study patients than in HCs. The left precentral gyrus (
r
= 0.5715,
p
< 0.0001), the left supramarginal gyrus (
r
= 0.3847,
p
= 0.0099), the left postcentral gyrus (
r
= 0.5195,
p
= 0.0003), the right superior frontal gyrus (
r
= 0.3266,
p
= 0.0305), and the right caudal (
r
= 0.4749,
p
= 0.0011) and rostral anterior cingulate (
r
= 0.3927,
p
= 0.0084) demonstrated positive correlations between ICVF and cortical thickness in study patients, but no significant correlations between ICVF and cortical thickness were observed in HCs. Results from the current study suggest that DCM may cause widespread gray matter alterations and underlying subcortical neurite loss, which may serve as potential imaging biomarkers reflecting the pathology of DCM.
Full article
►

▼

Show Figures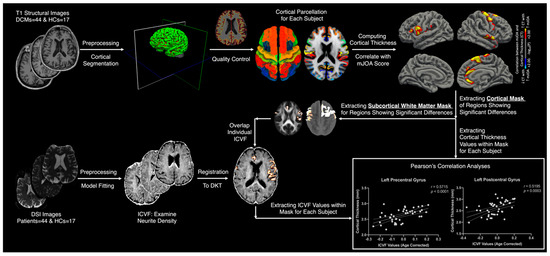 Figure 1