Ethanol-Gas-Sensing Performances of Built-in ZrO2/Co3O4 Hybrid Nanostructures
Viewed by 442
Abstract
The development of novel nanomaterials as highly efficient gas-sensing materials is envisaged as one of the most important routes in the field of gas-sensing research. However, developing stable, selective, and efficient materials for these purposes is a highly challenging task requiring numerous design
[...] Read more.
The development of novel nanomaterials as highly efficient gas-sensing materials is envisaged as one of the most important routes in the field of gas-sensing research. However, developing stable, selective, and efficient materials for these purposes is a highly challenging task requiring numerous design attempts. In this work, a ZrO
2
/Co
3
O
4
composite is reported, for the first time, as a gas-sensing material for the detection of ethanol. The sensitive and selective detection of ethanol gas at 200 °C has been demonstrated for the ZrO
2
/Co
3
O
4
(0.20 wt%/0.20 wt%)-based sensor. Furthermore, the sensor showed a very low response/recovery time of 56 s and 363 s, respectively, in response to a pulse of 20 ppm of ethanol and good stability. The interesting gas-sensing property of ZrO
2
/Co
3
O
4
can be ascribed to both the porous structure, which facilitates the interaction between the target gas and the sensing site, and the p–p-junction-induced built-in electric field. These results indicate that the ZrO
2
/Co
3
O
4
composite can serve as a heterostructured nanomaterial for the detection of ethanol gas.
Full article
►

▼

Show Figures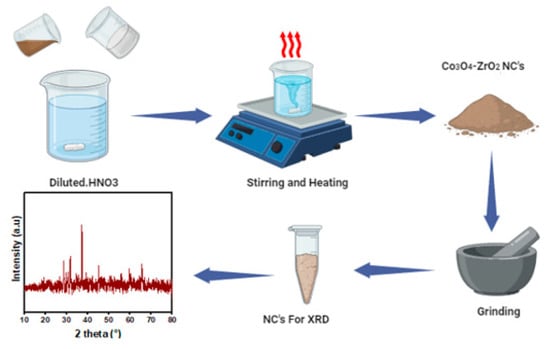 Figure 1