Toll and IMD Immune Pathways Are Important Antifungal Defense Components in a Pupal Parasitoid, Pteromalus puparum
Viewed by 282
Abstract
Insects employ multifaceted strategies to combat invading fungi, with immunity being a promising mechanism. Immune pathways function in signal transduction and amplification, ultimately leading to the activation of antimicrobial peptides (AMPs). Although several studies have shown that immune pathways are responsible for defending
[...] Read more.
Insects employ multifaceted strategies to combat invading fungi, with immunity being a promising mechanism. Immune pathways function in signal transduction and amplification, ultimately leading to the activation of antimicrobial peptides (AMPs). Although several studies have shown that immune pathways are responsible for defending against fungi, the roles of parasitoid immune pathways involved in antifungal responses remain unknown. In this study, we evaluated the roles of the Toll and IMD pathways of a pupal parasitoid,
Pteromalus puparum
(Hymenoptera: Pteromalidae), in fighting against
Beauveria bassiana
(Hypocreales: Cordycipitaceae). Successful colonization of
B. bassiana
on
P. puparum
adults was confirmed by scanning electron microscopy (SEM). AMPs were induced upon
B. bassiana
infection. The knockdown of key genes,
PpTollA
and
PpIMD
, in Toll and IMD signaling pathways, respectively, significantly compromised insect defense against fungal infection. The knockdown of either
PpTollA
or
PpIMD
in
P. puparum
dramatically promoted the proliferation of
B. bassiana
, resulting in a decreased survival rate and downregulated expression levels of AMPs against
B. bassiana
compared to controls. These data indicated that PpTollA and PpIMD participate in Toll and IMD-mediated activation of antifungal responses, respectively. In summary, this study has greatly broadened our knowledge of the parasitoid antifungal immunity against fungi.
Full article
►

▼

Show Figures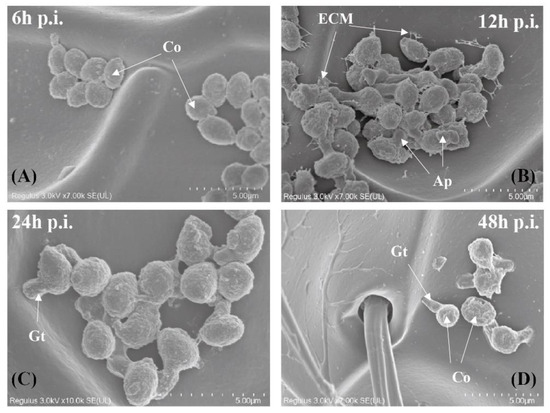 Figure 1