Transcriptome Profiling Analysis Reveals Co-Regulation of Hormone Pathways in Foxtail Millet during Sclerospora graminicola Infection
Abstract
Sclerospora graminicola
(Sacc.) Schroeter is a biotrophic pathogen of foxtail millet (
Setaria italica
) and increasingly impacts crop production. We explored the main factors for symptoms such as dwarfing of diseased plants and the "hedgehog panicle" by determining panicle characteristics of varieties
[...] Read more.
Sclerospora graminicola
(Sacc.) Schroeter is a biotrophic pathogen of foxtail millet (
Setaria italica
) and increasingly impacts crop production. We explored the main factors for symptoms such as dwarfing of diseased plants and the "hedgehog panicle" by determining panicle characteristics of varieties infected with
S. graminicola
and analyzing the endogenous hormone-related genes in leaves of Jingu 21. Results indicated that different varieties infected by
S. graminicola
exhibited various symptoms. Transcriptome analysis revealed that the ent-copalyl diphosphate synthetase (
CPS
) encoded by Seita.2G144900 and ent-kaurene synthase (
KS
) encoded by Seita.2G144400 were up-regulated 4.7-fold and 2.8-fold, respectively. Results showed that the biosynthesis of gibberellin might be increased, but the gibberellin signal transduction pathway might be blocked. The abscisic acid (ABA) 8′-hydroxylase encoded by Seita.6G181300 was continuously up-regulated by 4.2-fold, 2.7-fold, 14.3-fold, and 12.9-fold from TG1 to TG4 stage, respectively. Seita.2G144900 and Seita.2G144400 increased 79-fold and 51-fold, respectively, at the panicle development stage, promoting the formation of a "hedgehog panicle". Jasmonic acid-related synthesis enzymes
LOX2s
,
AOS
, and
AOC
were up-regulated at the early stage of infection, indicating that jasmonic acid played an essential role in early response to
S. graminicola
infection. The expression of
YUC
-related genes of the auxin synthesis was lower than that of the control at TG3 and TG4 stages, but the amidase encoded by Seita.2G313400 was up-regulated by more than 30-fold, indicating that the main biosynthesis pathway of auxin had changed. The results suggest that there was co-regulation of the hormone pathways during the infection of foxtail millet by
S. graminicola
.
Full article
►

▼

Show Figures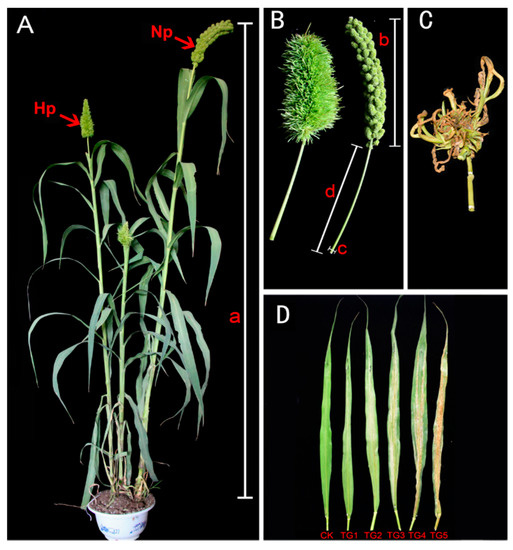 Figure 1