Potential Biomarkers for Treatment Response to the BCL-2 Inhibitor Venetoclax: State of the Art and Future Directions
Viewed by 619
Abstract
Intrinsic apoptotic pathway dysregulation plays an essential role in all cancers, particularly hematologic malignancies. This role has led to the development of multiple therapeutic agents targeting this pathway. Venetoclax is a selective BCL-2 inhibitor that has been approved for the treatment of chronic
[...] Read more.
Intrinsic apoptotic pathway dysregulation plays an essential role in all cancers, particularly hematologic malignancies. This role has led to the development of multiple therapeutic agents targeting this pathway. Venetoclax is a selective BCL-2 inhibitor that has been approved for the treatment of chronic lymphoid leukemia and acute myeloid leukemia. Given the reported resistance to venetoclax, understanding the mechanisms of resistance and the potential biomarkers of response is crucial to ensure optimal drug usage and improved patient outcomes. Mechanisms of resistance to venetoclax include alterations involving the BH3-binding groove,
BCL2
gene mutations affecting venetoclax binding, and activation of alternative anti-apoptotic pathways. Moreover, various potential genetic biomarkers of venetoclax resistance have been proposed, including chromosome 17p deletion, trisomy 12, and
TP53
loss or mutation. This manuscript provides an overview of biomarkers that could predict treatment response to venetoclax.
Full article
►

▼

Show Figures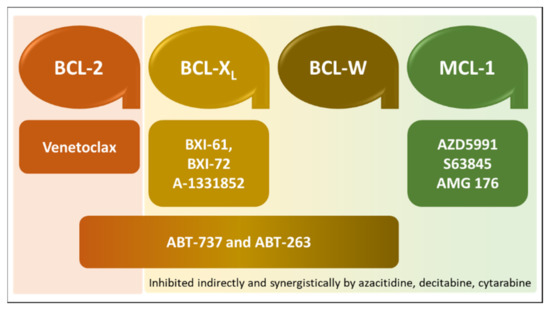 Figure 1