Size Matters: An Evaluation of the Molecular Basis of Ontogenetic Modifications in the Composition of Bothrops jararacussu Snake Venom
Cited by 17
| Viewed by 3398
Abstract
Ontogenetic changes in venom composition have been described in
Bothrops
snakes, but only a few studies have attempted to identify the targeted paralogues or the molecular mechanisms involved in modifications of gene expression during ontogeny. In this study, we decoded
B. jararacussu
venom
[...] Read more.
Ontogenetic changes in venom composition have been described in
Bothrops
snakes, but only a few studies have attempted to identify the targeted paralogues or the molecular mechanisms involved in modifications of gene expression during ontogeny. In this study, we decoded
B. jararacussu
venom gland transcripts from six specimens of varying sizes and analyzed the variability in the composition of independent venom proteomes from 19 individuals. We identified 125 distinct putative toxin transcripts, and of these, 73 were detected in venom proteomes and only 10 were involved in the ontogenetic changes. Ontogenetic variability was linearly related to snake size and did not correspond to the maturation of the reproductive stage. Changes in the transcriptome were highly predictive of changes in the venom proteome. The basic myotoxic phospholipases A
2
(PLA
2
s) were the most abundant components in larger snakes, while in venoms from smaller snakes, PIII-class SVMPs were the major components. The snake venom metalloproteinases (SVMPs) identified corresponded to novel sequences and conferred higher pro-coagulant and hemorrhagic functions to the venom of small snakes. The mechanisms modulating venom variability are predominantly related to transcriptional events and may consist of an advantage of higher hematotoxicity and more efficient predatory function in the venom from small snakes.
Full article
►

▼

Show Figures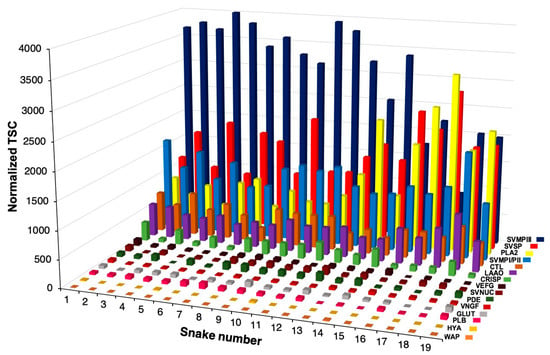 Figure 1