Open Access
Article
Dominance and Growth Factors of Pseudanabaena sp. in Drinking Water Source Reservoirs, Southern China
Received: 14 September 2018 / Revised: 24 October 2018 / Accepted: 26 October 2018 / Published: 29 October 2018
PDF Full-text (2186 KB) | HTML Full-text | XML Full-text
Abstract
Pseudanabaena sp. is a common and harmful species in freshwater cyanobacteria blooms. There are very few studies on its distribution characteristics and growth influencing factors. In the current study, it was found to be dominant in three cascading reservoirs in Southern China. Field
[...] Read more.
Pseudanabaena
sp. is a common and harmful species in freshwater cyanobacteria blooms. There are very few studies on its distribution characteristics and growth influencing factors. In the current study, it was found to be dominant in three cascading reservoirs in Southern China. Field observations and laboratory experiments were integrated to investigate the dominance and growth factors of
Pseudanabaena
sp. The effects of temperature, light intensity, nutrients, chemical oxygen demand (COD), pH, and disturbance on
Pseudanabaena
sp. growth were evaluated. The results indicated that
Pseudanabaena
sp. had significant positive correlations with water temperature, pH, and COD (
p
< 0.01) and a positive correlation with NH
3
-N (
p
< 0.05). The optimum growth temperature range for
Pseudanabaena
sp. was from 20 to 30 °C; hence, it usually has outbreaks in May and August. The optimum light intensity and pH for
Pseudanabaena
sp. were 27 μmol photons m
−2
s
−1
and from 7 to 9, respectively. The superior tolerance for low light, disturbance, and phosphorus deficiency of
Pseudanabaena
sp. may be the main factors affecting its dominance in reservoirs. Controlling nitrogen was more effective than controlling phosphorus to avoid the risk that was brought by
Pseudanabaena
sp. This study contributed to the theoretical knowledge for the prediction and control of the growth of
Pseudanabaena
sp.
Full article
►

▼

Figures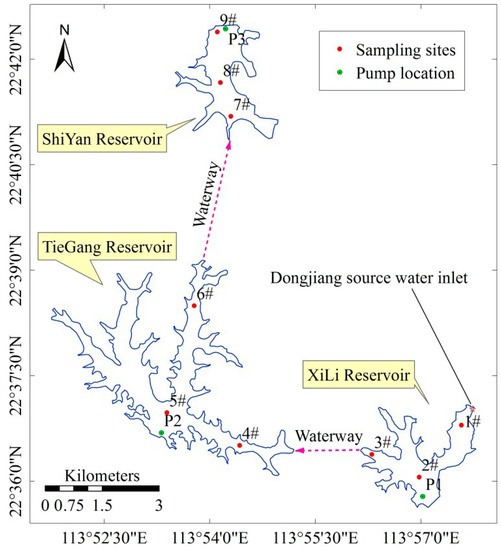 Figure 1