Rainbow Trout (Oncorhynchus mykiss) as Source of Multifunctional Peptides with Antioxidant, ACE and DPP-IV Inhibitory Activities
Viewed by 1247
Abstract
The present study aimed at characterizing the possible biological activities of the multifunctional low molecular weight fractions (<3 kDa) peptides isolated from rainbow trout (
Oncorhynchus mykiss
) obtained by enzymatic hydrolysis. The fish protein hydrolysate (FPH) was tested for its antioxidant property
[...] Read more.
The present study aimed at characterizing the possible biological activities of the multifunctional low molecular weight fractions (<3 kDa) peptides isolated from rainbow trout (
Oncorhynchus mykiss
) obtained by enzymatic hydrolysis. The fish protein hydrolysate (FPH) was tested for its antioxidant property along with its angiotensin converting enzyme (ACE) and dipeptidyl peptidase IV (DPP-IV) inhibitory activities. In particular, the 2,2-diphenyl-1-picrylhydrazyl (DPPH), the ferric reducing antioxidant power (FRAP), the oxygen radical absorbance capacity (ORAC) assay and the 2,2′-Azino-bis (3-ethylbenzothiazoline-6-sulfonic acid) diammonium salt (ABTS) assays were carried out for the evaluation of the in vitro antioxidant activity. The cell-free ACE and DPP-IV inhibitory activity assays were also estimated, showing a dose-dependent inhibition. These biological properties were additionally quantified at the cellular level using human intestinal Caco-2 cells. Namely, the antioxidant activity was determined by evaluating the capability of the hydrolysate to reduce the H
2
O
2
-induced reactive oxygen species (ROS) and lipid peroxidation levels, and the DPP-IV activity assays show a reduction of enzyme activity of up to 27.57 ± 3.7% at 5 mg/mL. The results indicate that
Oncorhynchus mykiss
-derived peptides may have potential employment as health-promoting ingredients.
Full article
►

▼

Show Figures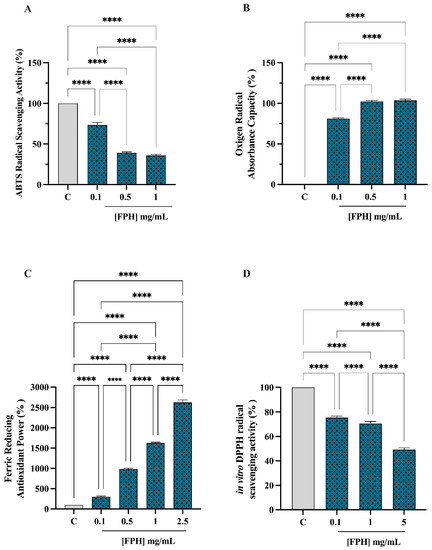 Figure 1