Conferences
Upcoming MDPI Conferences (2)

10 June 2022
Nutrients Webinar | What is New on Vitamin D: Implications for Daily Clinical Practice
Online
In the last two decades, vitamin D has been the focus of tremendous ongoing scientific research. Its primogenetic undisputed role in bone mineralization has been expanded to a strikingly disparate amalgamation of transparent scientific cases and observational studies, randomized controlled trials of doubtful design, and sporadically personal aphorisms and dogma. This phenomenon configures a burgeoning scientific field in which substantial controversy is inevitably reflected in daily clinical practice, resulting in a precarious interpretation of available results, lifestyle-affected vitamin D supplementation in vitamin-D-sufficient populations, and ineffective dosing and time regimens.
In this context, somewhere in between the dipole of inordinate enthusiasm and critical opposition, the vast majority of healthcare providers worldwide, involved in some part of the developed vitamin D daily agenda, postulate a sound individualized scientific approach unbiased from quandaries, oriented to improve long-term health outcomes and patient quality of life beyond the platonic caves of available knowledge in the field.
This webinar on vitamin D aims to draw attention to all current conflicting aspects of vitamin D research, including the following:
- What is new on Vitamin D and COVID-19?
- Results from the VITAL study: The changing spectrum of extraskeletal benefits of vitamin D in autoimmune diseases.
- Calcifediol for the treatment of hypovitaminosis D: Clinical perspectives.
- New data on dosing regimens (VIDA trial): Should monthly dosing be excluded from chronic vitamin D supplementation?
These hot topics are discussed by top-class international experts in the field, having devoted several years to vitamin D research. We hope for this webinar to shed some light on the ongoing controversy of the vitamin D "friendly" perspective versus vitamin D skepticism, with a discourse on clinical implications and physicians' daily decision making, into the beginning of the new decade.

The following experts will be present and talk:
Dr. Spyridon Karras, National Scholarship Foundation, Thessaloniki, Greece
Dr. Fatme Al Anouti, Department of Health Sciences, College of Natural and Health Sciences, Zayed University, Abu Dhabi, United Arab Emirates
Dr. John White, Department of Physiology, McGill University, Montreal, Quebec, Canada
Dr. Jean Claude Souberbielle, Department of Physiology, Necker-Enfants Maladies University Hospital, Paris Descartes University, Paris, France
Dr. Salvatore Minisola, Department of Clinical, Internal, Anesthesiology, and Cardiovascular Sciences, Sapienza University of Rome, Rome, Italy
When? 10 June 2022 at 3:00 pm CEST | 9:00 am EDT | 9:00 pm CST Asia
Register now for free!
Interested in contributing to the topic? You can find the Special Issue(s) linked to this topic and open for submission by clicking here.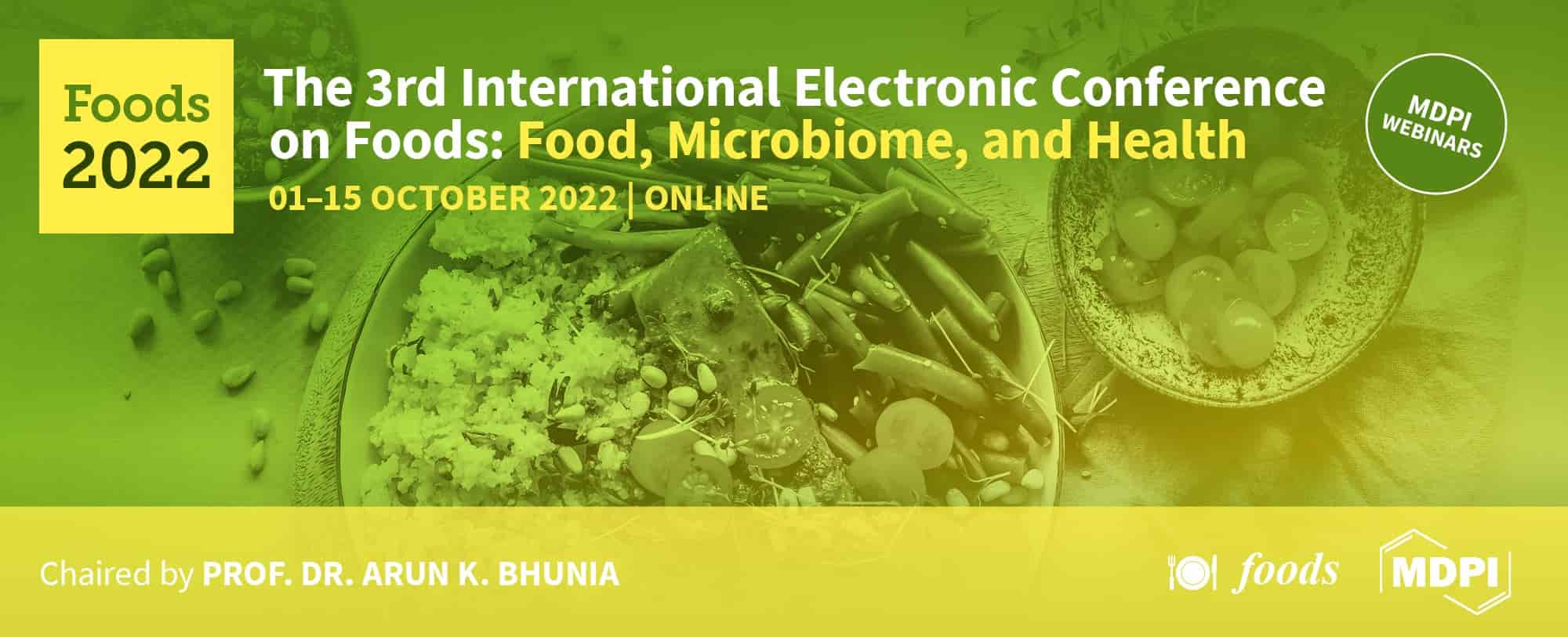 1–15 October 2022
The 3rd International Electronic Conference on Foods: Food, Microbiome, and Health—A Celebration of the 10th Anniversary of Food's Impact on Our Wellbeing
Online
Dear researchers,
Following the success of our first two Electronic Conferences on Food Science, I am delighted to invite you to join The 3rd International Electronic Conference on Foods 2022 - "Food, Microbiome, and Health—A celebration of the 10th anniversary of Food's impact on our wellbeing". I hope you will participate in this free E-conference, which will enable you to share and discuss your most recent research findings with the vibrant worldwide community of food scientists and technologists.
Food science and technology are gaining importance in response to the global need to carefully manage resources whilst providing wholesome and nutritious diets for the burgeoning world population. It is through collaboration, communication, and community that food scientists can help to ensure that a safe and healthy diet is available to all, thus eliminating starvation and food wastage.
Due to ongoing restrictions on travel and personal contact, it is a pleasure to still be able to collaborate electronically via Foods 2022 (3rd International Electronic Conference). This internet conference is designed to allow you to present your research to colleagues and interact as fully as possible with all those involved. For this, I thank the fantastic team at MDPI, who have set up and managed the complex arrangements required to allow us the opportunity to hold this virtual conference. l hope that you will meet old friends and make new ones. There will be many fascinating papers to spark everyone's interest.
Foods 2022 is a new and exciting experience for me; I believe that it is a taste of the future. Foods 2022 will revolutionize dissemination in the field with a brand-new tool for sharing research in an online forum that will preserve the same high standards and structure as expected of traditional in-person conferences, but will be more inclusive by removing the cost and time barriers that prevent many from participating in international conferences.
Foods 2022 will make your presentation accessible to hundreds of researchers worldwide, with the active engagement of the audience in question and answer sessions and discussion groups that will take place online to enhance the experience. I hope you will join us in presenting your work at Foods 2022 and taking part in this thriving online experience.
Submitted abstracts will be reviewed by the conference committee. The authors of accepted contributions will be invited to produce an extended abstract for the conference proceedings, along with a slide presentation of their work. Following the conference, outstanding contributions will be invited to submit their work for publication in the Foods journal.
The conference has been divided into 12 sessions, but there will be a large amount of overlap between these sessions. Please submit your articles as soon as possible, indicating which session you believe best suits your submission.
Session 1: Food Formulations —Novel Ingredients and Food Additives;
Session 2: Innovative Processing Techniques;
Session 3: Food Analytical Methods and Components;
Session 4: Food Microbiology, Microbiome and Food Biotechnology;
Session 5: Food Nutrition, Microbiome and Human Health;
Session 6: Nutraceuticals and Functional Foods;
Session 7: Foods Quality and Safety;
Session 8: Food Security and Sustainability;
Session 9: Plant Foods;
Session 10: Foods of Marine Origin;
Session 11: Food Toxicology;
Session 12: Drinks and Liquid Nutrition.
The future of humanity depends on managing the Earth's resources and, importantly, providing a healthy, sustaining diet for a burgeoning population. Food Science and Technology are the key areas that are needed to achieve this.
Best regards,
Prof. Dr. Arun K. Bhunia
Chair of Foods 2022
Conference Secretariats
Ms. Joie Wu
Ms. Stacy Luo
Mr. Paul Qi
Email: [email protected]
Nutrients announces selected third-party conferences. In case you would like to announce your own event on the Nutrients website, please fill out the following form to apply for the announcement of a conference or other academic event (seminar, workshop).
Upcoming Partner Conferences (3)

27–29 May 2022
1st International Conference of Nutritional Sciences and Dietetics (1st ICONSD 2022)
Thessaloniki, Greece
The conference builds upon the legacy of the preceding biannual Macedonian Conference in Nutrition and Dietetics, the last of which (the 13th of the series) took place in September 2020 as a virtual conference with great success. The conference is co-organized by the Department of Nutritional Sciences and Dietetics of the International Hellenic University and the Association of Dietitians-Nutritionists of Greece.
The newly established international conference aspires to become a platform where the latest international developments in the fields of nutritional sciences and dietetics are presented, discussed, and disseminated.
In addition, companies and institutions in the field of nutrition and dietetics are invited to present their products and research.

21–24 June 2022
3rd International Conference on Food Bioactives & Health
Parma, Italy
Dear Friends and Colleagues,
It is our great pleasure to invite you to participate in the 3rd International Conference on Food Bioactives & Health, that will be held on June 21-24, 2022 in the amazing city of Parma, Italy. This third conference in the series comes after the great success of the previous meetings, held in Norwich in 2016 and in Lisbon in 2018. Both events were very well organized and were a great success. We are, therefore, committed to match these standards and are preparing what we are sure will be a unique event. The topics addressed by FBHC2020 have been broadened to cover a wide range of topics on food bioactives and health, including (poly)phenols, carotenoids, glucosinolates & other organosulfur compounds, fatty acids & sterols, polysaccharides, and peptides & protein. In addition, a session will be devoted to toxic compounds, an often overlooked topic that is important from a holistic perspective in the role of food bioactives and their impact on human health. Particular attention will be paid on transversal topics such as personalised nutrition, gut microbiota, dietary intake, and nutritional policy. The Conference aims to offer plenty of networking opportunities, providing the chance to interact with renowned scientists and to stimulate creative exchange among researchers. Young scientists will have a lot of opportunities to showcase their work and obtain feedback from experienced international scientist. June is a perfect time to visit Parma, a lively and cultural city, located in Northern Italy, that is surrounded by parks, vineyards, lakes and medieval castles. Most importantly, Parma is a "food city". It has been recognised as UNESCO Creative City of Gastronomy and hosts the European Food Safety Authority (EFSA) headquarters. The congress year, 2020, will be a great time to visit Parma as it will be the Italian Capital of Culture and full of numerous special attractions. In addition, we are planning a "family friendly conference", with organized activities for the children of delegates during the sessions, including "learning through playing" games focusing on healthy nutrition and lifestyle. We hope you will participate in what will be a memorable conference in the beautiful city of Parma!
With best wishes,
The Organizing Committee.

15–17 September 2022
PPPP Congress - 8th International Congress on Probiotics, Prebiotics, Postbiotics in Pediatrics
Valencia, Spain
The PPPP Congress - 8th International Congress on Probiotics, Prebiotics, Postbiotics in Pediatrics is one of the premier congresses in pediatric medicine, specifically focused on the latest research on the use of probiotics, prebiotics, and postbiotics in the pediatric clinical practice.
You also have the chance to showcase your original research to world-renowned experts in pediatric gastroenterology, nutrition, and infectious diseases.
Be a game changer: submit you abstract and register now:
https://www.mcascientificevents.eu/biotics4pediatrics/?utm_source=MDPI_Nutrients&utm_medium=Banner&utm_campaign=Cross_Promotion
The Congress is organized by the World Association of Probiotics, Prebiotics, Postbiotics in Pediatrics. The Congress Committee is led by Professors Flavia Indrio (Italy), Ener Cagri Dinleyici (Turkey), Nicholas Embleton (United Kingdom), Pedro Gutierrez (Mexico), Alexis Mosca (France), Metehan Ozen (Turkey), Yvan Vandenplas (Belgium), and Ruggiero Francavilla (Italy).
For registration enquiries, please write to: [email protected]
For technical assistance on abstract submission, please contact: [email protected]