In Vitro Efficacy of Terpenes from Essential Oils against Sarcoptes scabiei
Viewed by 593
Abstract
The mite
Sarcoptes scabiei
is responsible for the emerging or re-emerging skin disease called scabies in humans and sarcoptic mange in animals. Essential oils represent an appealing alternative strategy for the control of
Sarcoptes
infections, but the commercial development of essential oils may
[...] Read more.
The mite
Sarcoptes scabiei
is responsible for the emerging or re-emerging skin disease called scabies in humans and sarcoptic mange in animals. Essential oils represent an appealing alternative strategy for the control of
Sarcoptes
infections, but the commercial development of essential oils may be hampered by their inconsistency in efficacy due to their varied chemical compositions. In order to address this issue, we assessed the efficacy of six components (carvacrol, eugenol, geraniol, citral, terpinen-4-ol, and linalool) against
S. scabiei
. At a concentration of 0.5%, carvacrol presented the best miticidal efficacy, with a median lethal time (LT
50
) value of 6.7 min, followed by eugenol (56.3 min), geraniol (1.8 h), citral (6.1 h), terpinen-4-ol (22.3 h), and linalool (39.9 h). The LC
50
values at 30 min for carvacrol, eugenol, and geraniol were 0.24, 0.79, and 0.91%, respectively. In conclusion, carvacrol, eugenol, and geraniol represent potential complementary or alternative agents for
S. scabiei
infections in humans or animals. Our study provides a scientific basis for the development of scabicidal products based on essential oils.
Full article
►

▼

Show Figures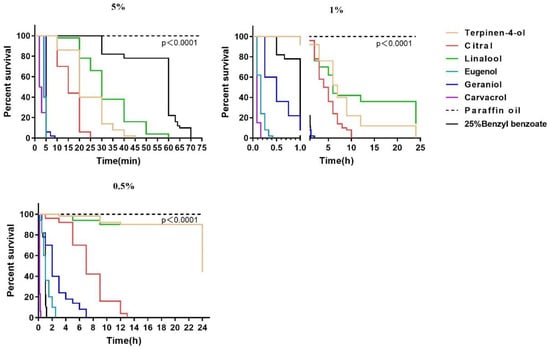 Figure 1