Chronic Carbon Tetrachloride Applications Induced Hepatocyte Apoptosis in Lipocalin 2 Null Mice through Endoplasmic Reticulum Stress and Unfolded Protein Response
Viewed by 653
Abstract
The lack of Lipocalin (LCN2) provokes overwhelming endoplasmic reticulum (ER) stress responses in vitro and in acute toxic liver injury models, resulting in hepatocyte apoptosis. LCN2 is an acute phase protein produced in hepatocytes in response to acute liver injuries. In line with
[...] Read more.
The lack of Lipocalin (LCN2) provokes overwhelming endoplasmic reticulum (ER) stress responses in vitro and in acute toxic liver injury models, resulting in hepatocyte apoptosis. LCN2 is an acute phase protein produced in hepatocytes in response to acute liver injuries. In line with these findings we investigated ER stress responses of
Lcn2
−/−
mice in chronic ER stress using a long-term repetitive carbon tetrachloride (CCl
4
) injection model. We found chronic CCl
4
application to enhance ER stress and unfolded protein responses (UPR), including phosphorylation of eukaryotic initiation factor 2α (eIF2α), increased expression of binding immunoglobulin protein (BiP) and glucose-regulated protein 94 (GRP94). IRE1α/TRAF2/JNK signaling enhanced mitochondrial apoptotic pathways, and showed slightly higher in
Lcn2
−/−
mice compared to the wild type counterparts, leading to increased hepatocyte apoptosis well evidenced by terminal deoxynucleotidyl transferase dUTP nick end labeling (TUNEL) staining. Hepatocyte injuries were confirmed by significant high serum alanine transaminase (ALT) levels in CCl
4
-treated
Lcn2
−/−
mice.
Lcn2
−/−
mice furthermore developed mild hepatic steatosis, supporting our finding that ER stress promotes lipogenesis. In a previous report we demonstrated that the pharmacological agent tunicamycin (TM) induced ER stress through altered protein glycosylation and induced high amounts of C/EBP-homologous protein (CHOP), resulting in hepatocyte apoptosis. We compared TM-induced ER stress in wild type,
Lcn2
−/−
, and
Chop
null (
Chop
−/−
) primary hepatocytes and found
Chop
−/−
hepatocytes to attenuate ER stress responses and resist ER stress-induced hepatocyte apoptosis through canonical eIF2α/GADD34 signaling, inhibiting protein synthesis. Unexpectedly, in later stages of TM incubation,
Chop
−/−
hepatocytes resumed activation of IRE1α/JNK/c-Jun and p38/ATF2 signaling, leading to late hepatocyte apoptosis. This interesting observation indicates
Chop
−/−
mice to be unable to absolutely prevent all types of liver injury, while LCN2 protects the hepatocytes by maintaining homeostasis under ER stress conditions.
Full article
►

▼

Show Figures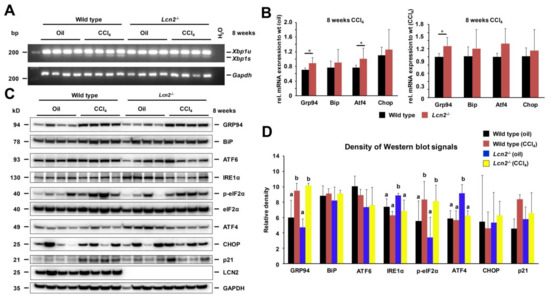 Figure 1