A Rare Mutation in The APOB Gene Associated with Neurological Manifestations in Familial Hypobetalipoproteinemia
Cited by 1
| Viewed by 750
Abstract
Clinical phenotypes of familial hypobetalipoproteinemia (FHBL) are related to a number of defective apolipoprotein B (
APOB
) alleles. Fatty liver disease is a typical manifestation, but serious neurological symptoms can appear. In this study, genetic analysis of the
APOB
gene and ophthalmological
[...] Read more.
Clinical phenotypes of familial hypobetalipoproteinemia (FHBL) are related to a number of defective apolipoprotein B (
APOB
) alleles. Fatty liver disease is a typical manifestation, but serious neurological symptoms can appear. In this study, genetic analysis of the
APOB
gene and ophthalmological diagnostics were performed for family members with FHBL. Five relatives with FHBL, including a proband who developed neurological disorders, were examined. A sequencing analysis of the whole coding region of the
APOB
gene, including flanking intronic regions, was performed using the next-generation sequencing (NGS) method. Electrophysiological ophthalmological examinations were also done. In the proband and his affected relatives, NGS identified the presence of the pathogenic, rare heterozygous splicing variant c.3696+1G>T. Two known heterozygous missense variants—c.2188G>A, p.(Val730Ile) and c.8353A>C, p.(Asn2785His)—in the
APOB
gene were also detected. In all patients, many ophthalmologic abnormalities in electrophysiological tests were also found. The identified splicing variant c.3696+1G>T can be associated with observed autosomal, dominant FHBL with coexisting neurological symptoms, and both identified missense variants could be excluded as the main cause of observed clinical signs, according to mutation databases and the literature. Electroretinography examination is a sensitive method for the detection of early neuropathy and should therefore be recommended for the care of patients with FHBL.
Full article
►

▼

Show Figures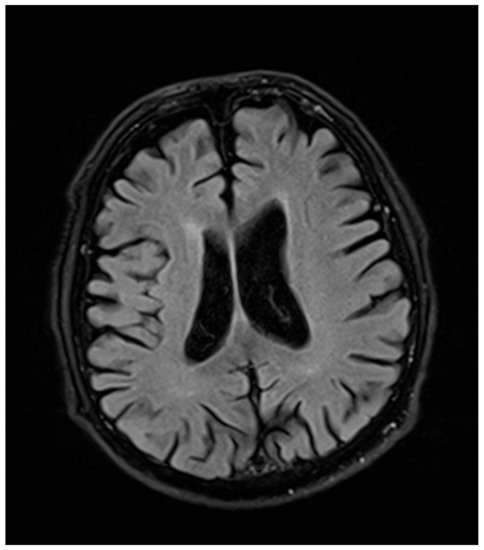 Figure 1