Distribution and Prevalence of Coxiella burnetii in Animals, Humans, and Ticks in Nigeria: A Systematic Review
Infect. Dis. Rep. 2023, 15(5), 576-588; https://doi.org/10.3390/idr15050056 (registering DOI) - 01 Oct 2023
Abstract
'Query' (Q) fever is a neglected but emerging or re-emerging zoonotic disease caused by the bacterium
Coxiella
(C.)
burnetii
. Several host species are considered or speculated to be the primary reservoir hosts for human infection. In the past, several research groups in
[...] Read more.
'Query' (Q) fever is a neglected but emerging or re-emerging zoonotic disease caused by the bacterium
Coxiella
(C.)
burnetii
. Several host species are considered or speculated to be the primary reservoir hosts for human infection. In the past, several research groups in Nigeria have evaluated the prevalence of
C. burnetii
in various vertebrate and invertebrate hosts. Currently, there is a paucity of knowledge regarding the epidemiology of the pathogen in Nigeria with limited or no attention to control and prevention programs. Therefore, this review was undertaken to comprehend the current situation of
C. burnetii
infection in human, domestic and peri-domestic animals, and some tick species in Nigeria since 1960 with the aim to help identify future research priorities for the country. A comprehensive literature search was performed using the PRISMA guidelines on five scientific databases including Google Scholar, PubMed, AJOL, Science Direct, and Scopus for articles published from Nigeria dealing with the screening of blood, milk, or tick DNA for evidence of
C. burnetii
using any standard diagnostic approach. Of the 33 published articles subjected to full-text evaluation, more than 48% of the articles met the inclusion criteria and were thus included in this review. We observed different ranges of prevalence for
C. burnetii
antibodies from four vertebrate hosts including cattle (2.5–23.5%), sheep (3.8–12.0%), goats (3.1–10.9%), and humans (12.0–61.3%). Additionally, the use of molecular diagnostics revealed that the DNA of
C. burnetii
has been amplified in eight tick species including
Hyalomma
(
Hy
)
dromedarii
,
Hy. truncatum
,
Hy. impeltatum
,
Hy. rufipes
,
Hy. impressum
,
Amblyomma (Am.) variegatum
,
Rhipicephalus (Rh.) evertsi evertsi
, and
Rh. annulatus.
Two rodent's species (
Rattus rattus
and
Rattus norvegicus
) in Nigeria were documented to show evidence of the bacterium with the detection of the DNA of
C. burnetii
in these two mammals. In conclusion, this review has provided more insight on the prevalence of
C. burnetii
and its associated host/vector in Nigeria. Domestic animals, peri-domestic animals, and ticks species harbor
C. burnetii
and could be a source of human infections. Due to the paucity of studies from southern Nigeria, we recommend that research groups with interest on vector-borne diseases need to consider more epidemiological studies in the future on
C. burnetii
prevalence in diverse hosts to help unravel their distribution and vector potentials in Nigeria as a whole.
Full article
►

▼

Show Figures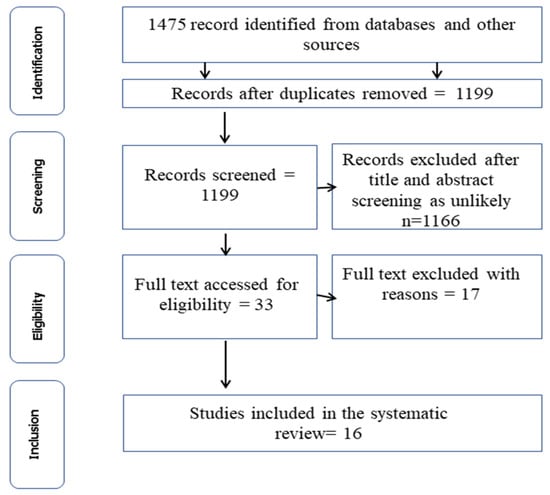 Figure 1