Utilization of Traditional Korean Medicine Services by the Older Population: A Cross-Sectional Study
Viewed by 505
Abstract
Korean healthcare service is divided into conventional medicine and traditional Korean medicine (TKM). This cross-sectional study compared the older population (65 years and older) with two groups of the general population (19–50 years and 51–64 years) to understand the current patterns in the
[...] Read more.
Korean healthcare service is divided into conventional medicine and traditional Korean medicine (TKM). This cross-sectional study compared the older population (65 years and older) with two groups of the general population (19–50 years and 51–64 years) to understand the current patterns in the use of TKM services by the older population. Using data from the 2017 National Survey of TKM Usage, we analyzed the main purpose and diseases or symptoms for TKM use, the reason for choosing TKM over other types of medicine, and the treatments provided. Both age groups sought TKM services to "[treat] a disease". The top five diseases and symptoms in the older adult (65 and older) group were musculoskeletal and are as follows: arthritis and joint diseases (37.8%,
n
= 166), disc-related diseases (25.5%,
n
= 112), back pain (8.4%,
n
= 37), frozen shoulder and shoulder pain (7.7%,
n
= 34), and sprain (5.9%,
n
= 26). The most frequently used treatments for these diseases were acupuncture, moxibustion, cupping, and physiotherapy. The present study suggests that older adults primarily used TKM clinics for the treatment of musculoskeletal diseases. Further studies are necessary to assess the clinical effectiveness of conventional medicine versus TKM versus a combination of both in treating musculoskeletal disorders.
Full article
►

▼

Show Figures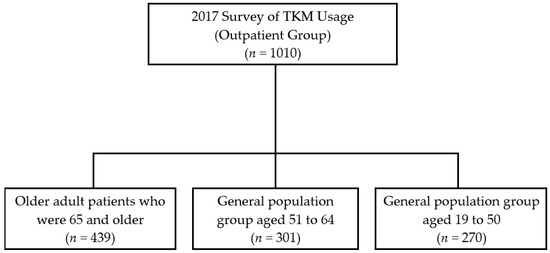 Figure 1