Fabrication and Characterization of Antimicrobial Magnetron Cosputtered TiO2/Ag/Cu Composite Coatings
Viewed by 469
Abstract
The aim of this study was to prepare TiO
2
/Ag/Cu magnetron co-sputtered coatings with controlled characteristics and to correlate them with the antimicrobial activity of the coated glass samples. The elemental composition and distribution, surface morphology, wettability, surface energy and its component
[...] Read more.
The aim of this study was to prepare TiO
2
/Ag/Cu magnetron co-sputtered coatings with controlled characteristics and to correlate them with the antimicrobial activity of the coated glass samples. The elemental composition and distribution, surface morphology, wettability, surface energy and its component were estimated as the surface characteristics influencing the bioadhesion. Well expressed, specific, Ag/Cu concentration-dependent antimicrobial activity in vitro was demonstrated toward Gram-negative and Gram-positive standard test bacterial strains both by diffusion 21 assay and by Most Probable Number of surviving cells. Direct contact and eluted silver/coper nanoparticles killing were experimentally demonstrated as a mode of the antimicrobial action of the studied TiO
2
/Ag/Cu thin composite coatings. It is expected that they would ensure a broad spectrum bactericidal activity during the indwelling of the coated medical devices and for at least 12 h after that, with the supposition that the benefits will be over a longer time.
Full article
►

▼

Show Figures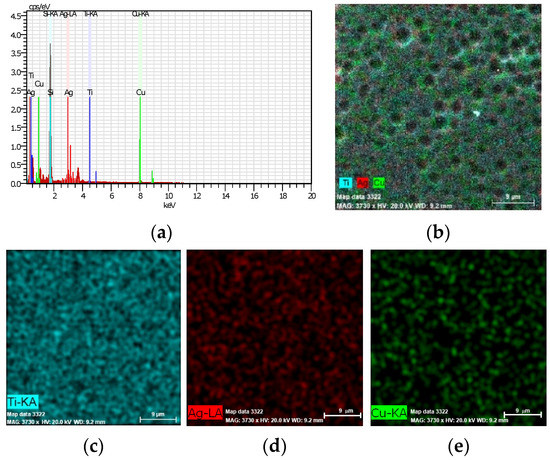 Figure 1