Sex Differences in Fatty Acid Metabolism and Blood Pressure Response to Dietary Salt in Humans
Abstract
Salt sensitivity is a trait in which high dietary sodium (Na
+
) intake causes an increase in blood pressure (BP). We previously demonstrated that in the gut, elevated dietary Na
+
causes dysbiosis. The mechanistic interplay between excess dietary Na
+
-induced
[...] Read more.
Salt sensitivity is a trait in which high dietary sodium (Na
+
) intake causes an increase in blood pressure (BP). We previously demonstrated that in the gut, elevated dietary Na
+
causes dysbiosis. The mechanistic interplay between excess dietary Na
+
-induced alteration in the gut microbiome and sex differences is less understood. The goal of this study was to identify novel metabolites in sex differences and blood pressure in response to a high dietary Na
+
intake. We performed stool and plasma metabolomics analysis and measured the BP of human volunteers with salt intake above or below the American Heart Association recommendations. We also performed RNA sequencing on human monocytes treated with high salt in vitro. The relationship between BP and dietary Na
+
intake was different in women and men. Network analysis revealed that fatty acids as top subnetworks differentially changed with salt intake. We found that women with high dietary Na
+
intake have high levels of arachidonic acid related metabolism, suggesting a role in sex differences of the blood pressure response to Na
+
. The exposure of monocytes to high salt in vitro upregulates the transcription of fatty acid receptors and arachidonic acid-related genes. These findings provide potentially novel insights into metabolic changes underlying gut dysbiosis and inflammation in salt sensitivity of BP.
Full article
►

▼

Show Figures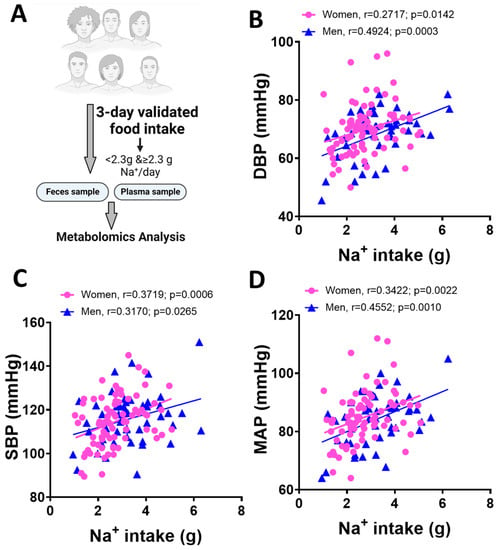 Figure 1