A Novel Human Biospecimen Repository for Clinical and Molecular Investigation of Thoracic Aortopathy
Cardiogenetics 2021, 11(3), 148-163; https://doi.org/10.3390/cardiogenetics11030017 (registering DOI) - 18 Sep 2021
Abstract
Thoracic aortic aneurysm (TAA) is a heritable aortopathy with significant morbidity and mortality, affecting children and adults. Genetic causes, pathobiological mechanisms, and prognostic markers are incompletely understood. In 2015, the Collaborative Human Aortopathy Repository (CHAR) was created to address these fundamental gaps. Patients
[...] Read more.
Thoracic aortic aneurysm (TAA) is a heritable aortopathy with significant morbidity and mortality, affecting children and adults. Genetic causes, pathobiological mechanisms, and prognostic markers are incompletely understood. In 2015, the Collaborative Human Aortopathy Repository (CHAR) was created to address these fundamental gaps. Patients with thoracic aortopathy, associated genetic diagnoses, or aortic valve disease are eligible for prospective enrollment. Family members and controls are also enrolled. Detailed clinical and family data are collected, and blood and aortic tissue biospecimens are processed for broad usage. A total of 1047 participants were enrolled. The mean age in 834 affected participants was 47 ± 22 (range <1 to 88) years and 580 were male (70%). A total of 156 (19%) were under the age of 21 years. Connective tissue diagnoses such as Marfan syndrome were present in 123 (15%). Unaffected participants included relatives (
N
= 176) and healthy aorta tissue controls (
N
= 37). Aortic or aortic valve biospecimens were acquired from over 290 and 110 participants, respectively. RNA and protein were extracted from cultured aortic smooth muscle cells (SMCs) for 90 participants. Over 1000 aliquots of aortic SMCs were cryopreserved. The CHAR's breadth, robust biospecimen processing, and phenotyping create a unique, multipronged resource to accelerate our understanding of human aortopathy.
Full article
►

▼

Show Figures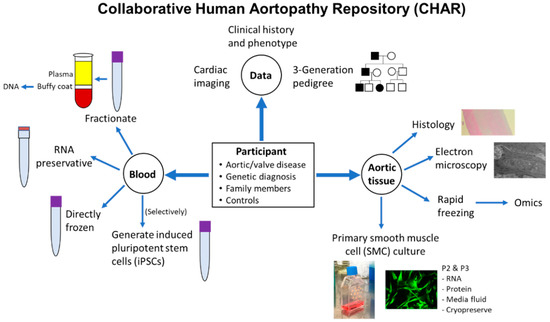 Figure 1