A Novel Mesoporous Carbon as Potential Conductive Additive for a Li-Ion Battery Cathode
Abstract
A new mesoporous carbon (MC) is obtained from pyrolysis of resorcinol/formaldehyde resin, polymerized in the presence of tetraethoxysilane and Pluronic F108, followed by pyrolysis at 800 °C and silica removal. The reaction mixture in a molar ratio of 1F108/60resorcinol/292 formaldehyde/16900 H
2
O/50
[...] Read more.
A new mesoporous carbon (MC) is obtained from pyrolysis of resorcinol/formaldehyde resin, polymerized in the presence of tetraethoxysilane and Pluronic F108, followed by pyrolysis at 800 °C and silica removal. The reaction mixture in a molar ratio of 1F108/60resorcinol/292 formaldehyde/16900 H
2
O/50 tetraethoxysilane heated at 67 °C produces MC nanoparticles (200 nm average size) exhibiting 3D bimodal mesopores (3.9 and 8.2 nm), 1198 m
2
/g surface area, 1.8 cm
3
/g pore volume, and important graphitic character for use as a conductive material. Composites LiFePO
4
/carbon prepared with MC or commercial Super P, by the slurry method, were tested as coin Li-ion battery (LiB) cathodes. Super P (40 nm average particle size) exhibits better graphitic character, but lower porosity than MC. LiFePO
4
/MC shows better specific capacity (161 mAhg
−1
) than LiFePO
4
/Super P (126 mAhg
−1
), with a retention capacity (RC) after cycling at
C/10
of 81%. Both composites with MC and Super P show well-distributed particles. According to impedance analysis, MC mesoporosity improves the charge transfer kinetics (CTK) more than Super P, producing a cathode with higher efficiency, although lithium ions' diffusion decreases because larger MC particles form longer diffusion paths. Owing to the good specific capacity of the LiB cathode prepared with MC, research looking into improving its retention capacity should be a focus.
Full article
►

▼

Show Figures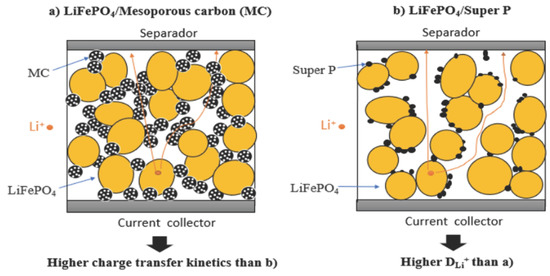 Graphical abstract