Tuning the Architecture of Hierarchical Porous CoNiO2 Nanosheet for Enhanced Performance of Li-S Batteries
Batteries 2022, 8(12), 262; https://doi.org/10.3390/batteries8120262 (registering DOI) - 29 Nov 2022
Abstract
As the desired components and crystal structure of a transition metal oxide catalyst are selected, architecture is a dominating factor affecting its electrocatalytic performance for applications in lithium-sulfur (Li-S) batteries. Nano-compounds with a hollow architecture are undoubtedly the ideal catalysts for enhancing cathodic
[...] Read more.
As the desired components and crystal structure of a transition metal oxide catalyst are selected, architecture is a dominating factor affecting its electrocatalytic performance for applications in lithium-sulfur (Li-S) batteries. Nano-compounds with a hollow architecture are undoubtedly the ideal catalysts for enhancing cathodic performance for more exposed active sites and shortened path lengths than are other architectures. Additionally, the internal stress in hollow architecture is favorable for further performance enhancement, due to its regulation effects of driving the d-band center of the transition metal in the active sites to migrate toward the Fermi level, which will promote the chemical adsorption and catalytic conversion of the polysulfides (PSs). To this point, we select hierarchical porous dual transition metal oxide CoNiO
2
nano-boxes (CoNiO
2
(B)) as the conceptual model; meanwhile, CoNiO
2
nano-flakes (CoNiO
2
(F)) with identical stoichiometry and crystal structure are also analyzed as a comparison. Li-S batteries based on CoNiO
2
(B) deliver superior energy storage features, including a reversible discharge capacity of 1232 mAh g
−1
at 0.05 C and a stable cycle performance with decay rate of 0.1% each cycle even after 300 cycles at 1 C. This research presents an alternative scheme for booting the performance of Li-S batteries.
Full article
►

▼

Show Figures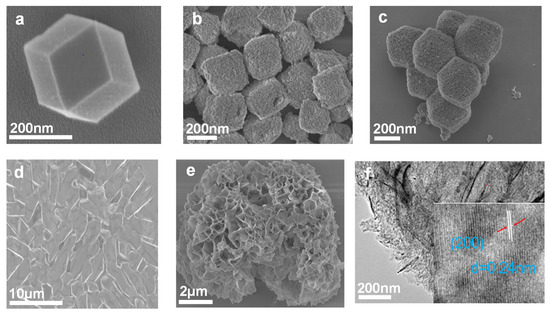 Figure 1