Theileria annulata: Its Propagation in Rabbits for the Attenuation of Piroplasms in Cross-Bred Calves
Viewed by 381
Abstract
Tropical theileriosis caused by the protozoan;
Theileria annulata
is a tick-borne disease (TBD) transmitted by ticks of genus
Hyalomma
; is clinically characterized by fever, anemia, and lymphadenopathy; and is responsible for heavy economic losses in terms of high morbidity and mortality rates
[...] Read more.
Tropical theileriosis caused by the protozoan;
Theileria annulata
is a tick-borne disease (TBD) transmitted by ticks of genus
Hyalomma
; is clinically characterized by fever, anemia, and lymphadenopathy; and is responsible for heavy economic losses in terms of high morbidity and mortality rates with reduced production. Infected red blood cells of
T. annulata
were inoculated into rabbits intraperitoneally, and propagation of
T. annulata
has been investigated. The current study has shown an association between induced tropical theileriosis and variation of body temperature in rabbits. A significant rise in temperature (39.92 ± 0.33 °C) was seen on day 8 onwards, with the maximum temperature (40.27 ± 0.44 °C) on day 14 post-inoculation. In the current study, in vivo trials in susceptible cross-bred calves to investigate the attenuation and comparison with the infected group were also conducted. All the infected calves (
n
= 5) showed a significant rise in temperature (40.26 ± 0.05 °C) on day 10 onwards, with the maximum temperature (40.88 ± 0.05 °C) on day 16. The temperature of inoculated calves increased gradually post-inoculation, but the difference was not significant. A maximum parasitemia of 20% was observed in infected calves, but no piroplasm parasitemia was observed in inoculated calves. The prescapular lymph nodes of infected calves were enlarged, while the lymph nodes of inoculated calves remained normal throughout the trial. Analysis of clinical and parasitological responses of infected and inoculated calves showed a significant difference (
p
≤ 0.05) in terms of temperature, parasitemia, and lymph node scoring between two groups. The current study was primarily aimed to attenuate
T. annulata
in rabbit and to check its virulence in susceptible calves. It is concluded that propagation of
Theileria annulata
in rabbits made it attenuated. Rabbit can be used as an in vivo model to weaken the virulence of
T. annulata
.
Full article
►

▼

Show Figures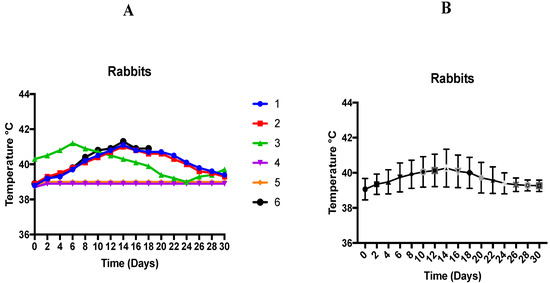 Figure 1