Conferences
Upcoming MDPI Conferences (1)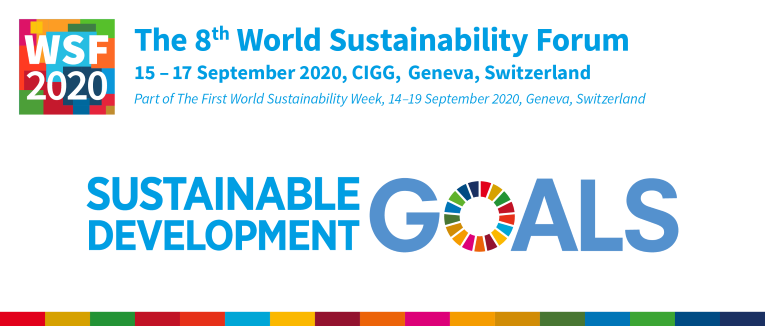 15–17 September 2020
The 8th World Sustainability Forum
Geneva
September 2020 marks the 5th birthday of the 2030 Agenda for Sustainable Development and the UN Sustainable Development Goals. If it were a child and given the right circumstances, it would now have developed fine motor skills, be able to stand on one foot for 10 seconds, have long conversations, and start to develop independence and responsibility. With The 8th World Sustainability Forum, we are not only celebrating a birthday, but are also taking stock of where we are in relation to a more sustainable world, what has worked, what has not yet worked, and where we need to go next. Sustainability has gained considerable traction: Many countries have integrated sustainability and environmental protection as part of their national development agenda, many businesses have realized the considerable long-term potential in sustainable development, and many research agendas have aligned with sustainability goals. It is now time for the research, policy, and business communities to enter into enduring dialog and to embrace greater global responsibilities. With this event, we hope to contribute to building a platform and network for a sustainability agenda that fosters partnerships among stakeholders beyond the boundaries of academic disciplines, narrow national agendas, and quarterly spreadsheets. The quest is to conceive of ways to assure long-term sustainable development for our people, our planet, as well as societal and corporate profit. In light of the importance of developing institutional partnerships and networks, this forum will be coordinated by the MDPI Sustainability Foundation, the UN Global Compact, the Global Footprint Network, and the Sustainable Development Solutions Network.
Animals announces selected third-party conferences. In case you would like to announce your own event on the Animals website, please fill out the following form to apply for the announcement of a conference or other academic event (seminar, workshop).
Upcoming Partner Conferences (2)

28 June–2 July 2020
19th International Congress on Animal Reproduction (ICAR)
Bologna, Italy
The International Congress on Animal Reproduction (ICAR) is a non-profit international organization that conducts conferences on animal reproduction. Founded in 1948, ICAR has no members but is governed by a Standing Committee made of scientists representatives of over 40 countries and has held a major conference every four years in many countries throughout the world. The focus of the Congress is animal reproduction, including animal physiology, animal pathology and reproductive technologies.

The conference is organized in individual plenary sessions followed by concurrent symposia and workshops as well as poster sessions. A trade exhibition will remain open throughout the conference.
The following topics will be treated:
Avian species reproduction
Bovine reproduction
Buffalo reproduction
Camelid reproduction
Canine and feline reproduction
Control of estrous cycle
Cryobiology of gametes and embryos
Embryo development and differentiation
Embryogenesis in vitro
Female reproductive physiology
Horse reproduction
Imaging methods in reproduction
Male reproductive physiology
Metabolism and reproduction
Neuroendocrine control of reproduction
Nutrition and reproduction
Ovary and oocyte
Oviduct
Pig reproduction
Pregnancy, placental function and parturition
Reproduction in exotic animals and wild species
Reproduction in fish
Reproduction in sheep and goats
Reproductive pathologies
Reproductive system diseases
Spermatology and sperm quality
Testis
Uterus
Other
3–7 August 2020
The 54th Congress of International Society of Applied Ethology
The Chancery Pavilion, Bangalore, India
The ISAE 2020 will take place from 3 to 7 August 2020. The theme of the congress is "Developing Animal Behaviour and Welfare: Real Solutions for Real Problems". Within this overall theme there are eight scientific themes for submissions:
Management of free-roaming animals (dogs, cattle, etc.)
Human behaviour change for animal welfare
Wild animal–human conflict
Application of technology to applied animal behaviour and welfare
Welfare of working animals
Behaviour and welfare of bovids
Farm animal production and anti-microbial resistance
Welfare of animals used in research and teachingv