Effect of N Supply Level and N Source Ratio on Cichorium spinosum L. Metabolism
Abstract
Cichorium spinosum
L. is considered a health-promoting vegetable that has been recently introduced in cultivation, and thus information on the responses of its different ecotypes to N supply level and source is largely fragmented. To cover this gap of knowledge, seeds of two
[...] Read more.
Cichorium spinosum
L. is considered a health-promoting vegetable that has been recently introduced in cultivation, and thus information on the responses of its different ecotypes to N supply level and source is largely fragmented. To cover this gap of knowledge, seeds of two different local ecotypes of
C. spinosum
L. originating from a coastal and a montane habitat of the island of Crete were propagated, and the obtained seedlings were grown hydroponically. The supplied nutrient solution differed in the total-N level (4 or 16 mmol L
−1
) and N source (NH
4
-N/-N/total-N: 0.05, 0.25, or 0.50). The impact of N supply level and N source ratio on the metabolism of the two ecotypes was assessed by gas chromatography–electron impact–mass spectrometry (GC/EI/MS) metabolomics combined with bioinformatics analyses. A general disturbance of the plants' metabolism was recorded, with results revealing that the genotypic composition was the predominant factor for the observed discriminations. The montane ecotype exhibited substantially lower levels of metabolites such as fructose and α-α-trehalose, and higher levels of glucose, myo-inositol, and fatty acids compared to the coastal ecotype when both were treated with low N. Carboxylic acids and metabolites of the tricarboxylic acid cycle (TCA) were also substantially affected by the N supply level and the NH
4
-N/total-N ratio. The obtained information could be further exploited in the breeding of cultivars with improved nutritional value and resilience to variations in N supply levels and sources.
Full article
►

▼

Show Figures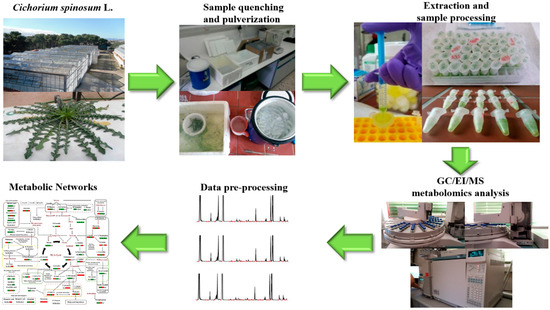 Figure 1