Vertical Infestation Profile of Aedes in Selected Urban High-Rise Residences in Malaysia
Abstract
Dengue is placing huge burdens on the Malaysian healthcare system as well as the economy. With the expansion in the number of high-rise residential buildings, particularly in the urban centers, the flight range and behavior of
Aedes
mosquitoes may be altered in this
[...] Read more.
Dengue is placing huge burdens on the Malaysian healthcare system as well as the economy. With the expansion in the number of high-rise residential buildings, particularly in the urban centers, the flight range and behavior of
Aedes
mosquitoes may be altered in this habitat type. In this study, we aimed to expand the understanding of the vertical distribution and dispersal of
Aedes
in nine selected high-rise residences in Kuala Lumpur, Selangor, and Johor using ovitraps as the sampling method. We discovered that
Ae. aegypti
is the predominant species in all study sites. Both
Ae. aegypti
and
Ae. albopictus
are most abundant within the first three levels and could be found up to level 21 (approximately 61.1–63.0 m). Pearson correlation analyses exhibited negative correlations in eight out of nine study sites between the ovitrap indexes (OIs) within each floor level, suggesting that
Aedes
density decreased as the building level increased. Our findings provide information to the public health authorities on 'hot spot' floors for effective suppression of dengue transmission.
Full article
►

▼

Show Figures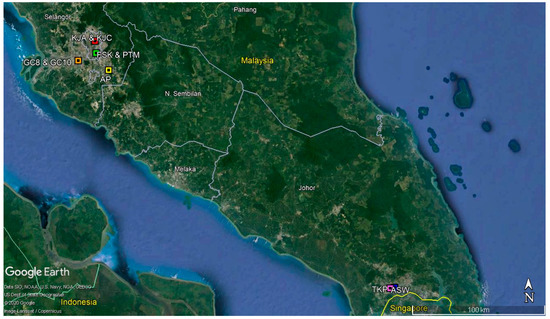 Figure 1