Comparative Evaluation of the Capacity of Commercial and Autochthonous Saccharomyces cerevisiae Strains to Remove Ochratoxin A from Natural and Synthetic Grape Juices
Viewed by 1035
Abstract
In this paper, we assessed the ability of two strains of
Saccharomyces cerevisiae
, in viable and dead forms, to remove ochratoxin A (OTA) from an artificially contaminated synthetic grape juice medium (SGM) (10 µg OTA/L) and a naturally contaminated grape juice (6.64
[...] Read more.
In this paper, we assessed the ability of two strains of
Saccharomyces cerevisiae
, in viable and dead forms, to remove ochratoxin A (OTA) from an artificially contaminated synthetic grape juice medium (SGM) (10 µg OTA/L) and a naturally contaminated grape juice (6.64 µg OTA/L). The first strain, named Levulin FB, is a commercial yeast used in making wine. The second, named SC5, is an autochthonous strain isolated from table grapes. OTA concentrations in juices before and after their contact with yeast cells were assessed. A significant decrease in OTA level (
p
< 0.05) in the SGM medium and in the natural grape juice was observed after 1 h of adding yeast cells (20 g/L) in viable and heat-treated forms. It was inferred that the dead forms of the two strains were more able to eliminate OTA than their viable forms in both media. This study demonstrates the potential application of an autochthonous yeast for the natural decontamination of grape juice from fungal toxins.
Full article
►

▼

Show Figures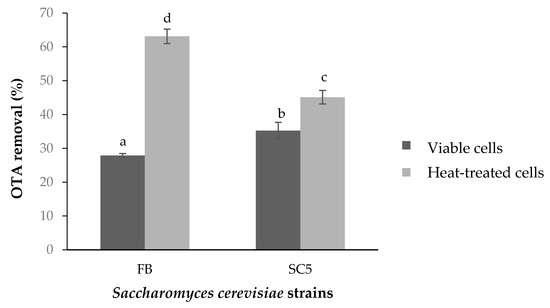 Figure 1