24–26 April 2019
International Conference on Renewable Energy 2019
Paris, France
Renewable energy forms one of the pillars for maintaining a sustainable environment and meeting climate change targets. The renewable energy industry has grown, with huge investments being ploughed into it globally. New global investment in renewable energy (excluding large hydro-electric projects) was around US$241.6 billion in 2016, with an added renewable power capacity of over 138.5GW worldwide. This capacity is equivalent to 55% of the total generating capacity and was approximately double that of fossil fuel generation in 2016. The International Conference on Renewable Energy series addresses research and development in renewable energy technologies, including energy efficiency. It is an annual meeting planned to be held in different countries, initially within Europe, with Asia, the Middle East, Africa, and Latin America being highlighted as target regions for the conference.
The next session in the series of the International Conference on Renewable Energy is the ICREN2019, with a focus on international participation through the inclusion of both novice and experienced researchers with an interest in renewable energy studies. The conference will be held at the UNESCO Headquarters in Paris, France, providing an unparalleled venue for fostering debate in this globally important area.
ICREN2019 will include articles and presentations on the latest research on renewable energy technologies, grid interactions, energy efficiency, data analytics, economics and finance, environmental and social impact, as well as policy and climate change implications.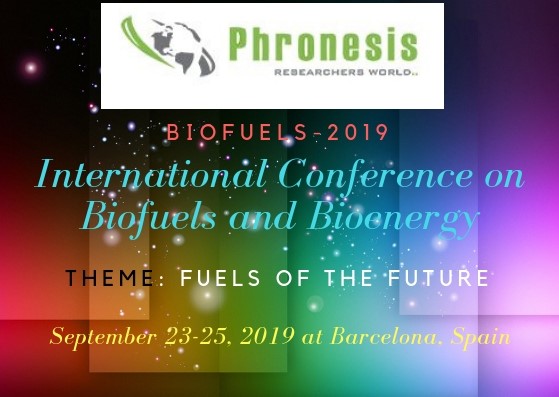 23–25 September 2019
International Conference on Biofuels & Bioenergy
Barcelona, Spain
We cordially invites all the participants from all over the world to attend International Conference on Biofuels and Bioenergy will be held in Barcelona, Spain, during September 23–25, 2019. This International event will feature the world of advanced biofuels and biobased chemicals technology scale-up, project finance, policy, national markets and more with a core focus on the industrial, petroleum and agribusiness alliances defining the national advanced biofuels industry. Biofuels 2019 Conference is a premier enlightening and networking connection for all industry stakeholders, policy makers, investors, industry and research community to exchange experiences and challenges related to development and scaling up of advanced biofuels. The event provides attendees with an unparalleled opportunity to connect, learn and grow their business with the theme of "Fuels of the Future". The emergence of Biofuels production as an alternative energy source has generated considerable excitement. Unsustainable levels of greenhouse gas emissions mainly due to fossil fuels combustion, have led to increased focus on renewable energy sources.
Biofuels-2019 takes advantage of this opportunity to share your insight with the experts and global participants from renewable energy, energy efficiency, power, bioenergy, biofuels, fuel cells, waste management sectors. With its strong emphasis on innovative approaches, the conference offers a chance for scientists working in different areas of Biomass, Biofuels, Bioenergy to learn of the new ideas that could help them advance their own research and forge new professional relationships and collaborations. Your Presence at Biofuels 2019 will be a rewarding experience.
For more information, please visit:

30 September–4 October 2019
SARDINIA 2019 / 17th International Waste Management and Landfill Symposium
Forte Village / Cagliari / Italy
After celebrating our 30-year anniversary in 2017, the next edition of the Sardinia Symposium to be held in 2019 is looking better than ever with a success that makes the Sardinia Symposia the most important solid waste management conference in the world.
The seventeenth edition will take place at Forte Village Resort, Santa Margherita di Pula (Cagliari) Italy, from September 30th to October 4th, 2019, with an expected attendance of 800+ delegates.
In line with tradition, the conference will include parallel oral sessions, specialised workshops, discussion forums and roundtables, a continuously accessible poster area and a wide exhibition space for companies working in the field of Waste Management.
CALL FOR ABSTRACTS
Abstracts must be submitted no later than February 15th, 2019 following the detailed instructions on:
www.sardiniasymposium.it/en/call-for-abstracts
Abstracts must clearly describe the content of presentations and their basis (detailed case study, discussion of experience from practice, preliminary research data, completed research not presented previously, review of literature, administrative initiatives and regulations, etc) and may be submitted for oral or poster presentation. Proposal for workshops are also welcome.
TOPICS
Waste policy and legislation
Waste management strategies
Public concern and education
Waste Management assessment and decision tools
Waste characterization
Waste collection
Waste minimi- sation and recycling
Biological treatment
Thermal treatment
Mechanical biological treatment prior to landfilling
Sanitary landfilling
Integrated wastewater and solid waste management
Waste management and climate change
Waste management in developing and low income countries
Special sessions
New topics: Waste Architecture
Environmental Forensics
Waste & Health