Biochar/Kevlar Nanofiber Mixed Matrix Nanofiltration Membranes with Enhanced Dye/Salt Separation Performance
Membranes 2021, 11(6), 443; https://doi.org/10.3390/membranes11060443 (registering DOI) - 12 Jun 2021
Abstract
Mixed matrix membranes have received ever-growing attention due to their high separation performance, taking the advantages of both porous fillers and polymer backbones. However, limitations still exist due to the instability of polymers in harsh environments. Here, Kevlar aramid nanofibers, a nanoscale version
[...] Read more.
Mixed matrix membranes have received ever-growing attention due to their high separation performance, taking the advantages of both porous fillers and polymer backbones. However, limitations still exist due to the instability of polymers in harsh environments. Here, Kevlar aramid nanofibers, a nanoscale version of poly(paraphenylene terephthalamide), were applied to fabricate a nanofiltration membrane by a thermo-assisted phase inversion method due to their high mechanical strength, physical stability and resistance to solvents. Biochar was incorporated in the Kevlar nanofibers to evaluate its performance in dye/salt separation performance. The fillers' distribution in the polymeric matrix, structural characteristics, and the interaction of fillers with the polymer in the membrane were characterized via SEM, FTIR, AFM and contact angle analysis. Under the optimal fabrication conditions, the obtained membrane exhibited a pure water flux of 3.83 L m
−2
h
−1
bar
−1
with a dye rejection of 90.55%, 93.54% and 95.41% for Congo red, methyl blue and Reactive blue 19, respectively. Meanwhile, the mixed matrix membrane maintained a salt rejection of 59.92% and 85.37% for NaCl and Na
2
SO
4
, respectively. The obtained membrane with high separation performance suggested that Kevlar nanofiber and biochar are good candidates for membrane synthesis.
Full article
►

▼

Show Figures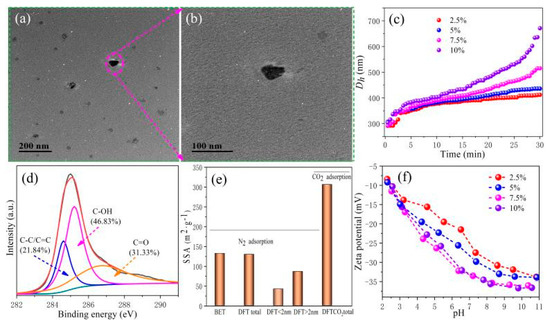 Figure 1