Visible-Light Active Photocatalytic Dual Layer Hollow Fiber (DLHF) Membrane and Its Potential in Mitigating the Detrimental Effects of Bisphenol A in Water
Abstract
The presence of bisphenol A (BPA) in various water sources has potentially led to numerous adverse effects in human such as increased in blood pressure and derangement in liver function. Thus, a reliable treatment for the removing BPA is highly required. This present
[...] Read more.
The presence of bisphenol A (BPA) in various water sources has potentially led to numerous adverse effects in human such as increased in blood pressure and derangement in liver function. Thus, a reliable treatment for the removing BPA is highly required. This present work aimed to study the efficiency of visible light driven photocatalytic dual-layer hollow fiber (DLHF) membrane for the removal of BPA from water and further investigated its detrimental effects by using an in-vivo model. The prepared membranes were characterized for their morphology, particles distribution, surface roughness, crystallinity and light absorption spectra. The removal of 81.6% and 86.7% in BPA concentration was achieved for N-doped TiO
2
DLHF after 360 min of visible and UV light irradiation, respectively. No significant changes for all three groups were observed in liver function test meanwhile the rats-exposed to untreated BPA water shows significance blood pressure increment contrary to rats-exposed to treated BPA water. Similarly, the normal morphology in both jejunum and ileum were altered in rats-exposed to untreated BPA water group. Altogether, the presence of N-doped TiO
2
in DLHF are shown to significantly enhance the photocatalytic degradation activity under visible irradiation, which effectively mitigates the effect of BPA in an in-vivo model.
Full article
►

▼

Show Figures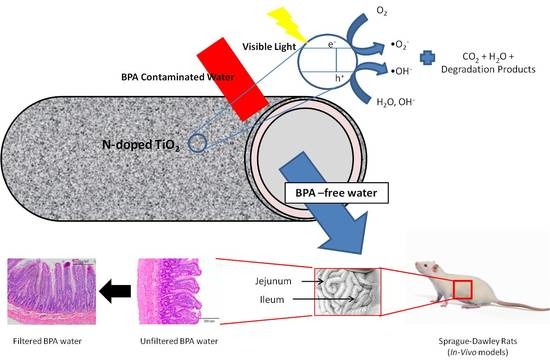 Graphical abstract