Open Access
Article
Antileishmanial Activity of Dimeric Flavonoids Isolated from Arrabidaea brachypoda
Received: 20 November 2018 / Revised: 10 December 2018 / Accepted: 19 December 2018 / Published: 20 December 2018
PDF Full-text (3290 KB) | HTML Full-text | XML Full-text
Abstract
Leishmaniasis are diseases caused by parasites belonging to Leishmania genus. The treatment with pentavalent antimonials present high toxicity. Secondary line drugs, such as amphotericin B and miltefosine also have a narrow therapeutic index. Therefore, there is an urgent need to develop new drugs
[...] Read more.
Leishmaniasis are diseases caused by parasites belonging to
Leishmania
genus. The treatment with pentavalent antimonials present high toxicity. Secondary line drugs, such as amphotericin B and miltefosine also have a narrow therapeutic index. Therefore, there is an urgent need to develop new drugs to treat leishmaniasis. Here, we present the in vitro anti-leishmanial activity of unusual dimeric flavonoids purified from
Arrabidaea brachypoda
. Three compounds were tested against
Leishmana
sp. Compound 2 was the most active against promastigotes. Quantifying the in vitro infected macrophages revealed that compound 2 was also the most active against intracellular amastigotes of
L. amazonensis
, without displaying host cell toxicity. Drug combinations presented an additive effect, suggesting the absence of interaction between amphotericin B and compound 2. Amastigotes treated with compound 2 demonstrated alterations in the Golgi and accumulation of vesicles inside the flagellar pocket. Compound 2-treated amastigotes presented a high accumulation of cytoplasmic vesicles and a myelin-like structure. When administered in
L. amazonensis
-infected mice, neither the oral nor the topical treatments were effective against the parasite. Based on the high in vitro activity, dimeric flavonoids can be used as a lead structure for the development of new molecules that could be useful for structure-active studies against
Leishmania
.
Full article
►

▼

Figures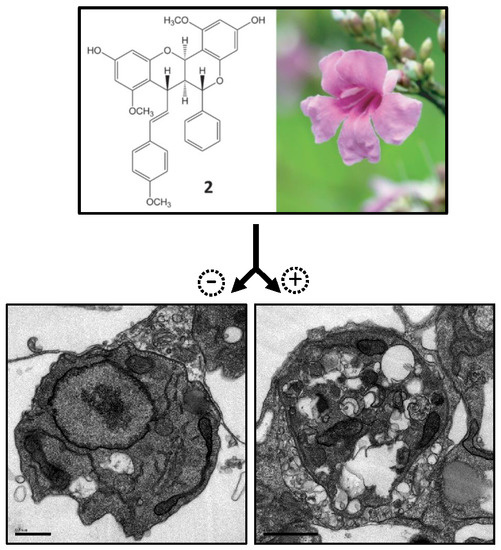 Graphical abstract