Green Concrete Based on Quaternary Binders with Significant Reduced of CO2 Emissions
Cited by 3
| Viewed by 412
Abstract
The article presents studies of plain concretes prepared based on a quaternary binder containing various percentages of selected supplementary cementitious materials (SCMs). The possibilities of nanotechnology in concrete technology were also used. An additional important environmental goal of the proposed solution was to
[...] Read more.
The article presents studies of plain concretes prepared based on a quaternary binder containing various percentages of selected supplementary cementitious materials (SCMs). The possibilities of nanotechnology in concrete technology were also used. An additional important environmental goal of the proposed solution was to create the possibility of reducing CO
2
emissions and the carbon footprint generated during the production of ordinary Portland cement (OPC). As the main substitute for the OPC, siliceous fly ash (FA) was used. Moreover, silica fume (SF) and nanosilica (nS) were also used. During examinations, the main mechanical properties of composites, i.e., compressive strength (
f
cm
) and splitting tensile strength (
f
ctm
), were assessed. The microstructure of these materials was also analyzed using a scanning electron microscope (SEM). In addition to the experimental research, simulations of the possible reduction of CO
2
emissions to the atmosphere, as a result of the proposed solutions, were also carried out. It was found that the quaternary concrete is characterized by a well-developed structure and has high values of mechanical parameters. Furthermore, the use of green concrete based on quaternary binders enables a significant reduction in CO
2
emissions. Therefore quaternary green concrete containing SCMs could be a useful alternative to plain concretes covering both the technical and environmental aspects. The present study indicates that quaternary binders can perform better than OPC as far as mechanical properties and microstructures are concerned. Therefore they can be used during the production of durable concretes used to perform structures in traditional and industrial construction.
Full article
►

▼

Show Figures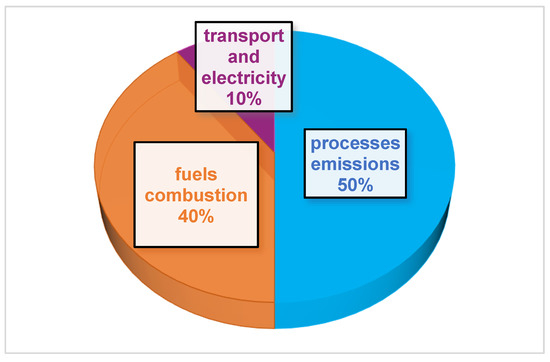 Figure 1