Conferences
Upcoming MDPI Conferences (1)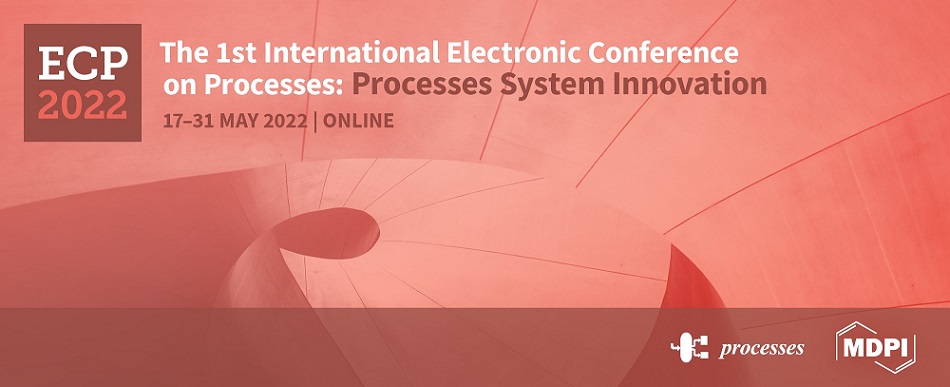 17–31 May 2022
The 1st International Electronic Conference on Processes: Processes System Innovation (ECP2022)
Online
It is our sincere pleasure and great honor to announce the 1st International Electronic Conference on Processes: Processes System Innovation (ECP2022), organized by the MDPI open-access journal Processes (ISSN: 2227-9717). This conference will be hosted online by https://sciforum.net/event/ECP2022 from 17 to 31 May 2022.
This conference will present the latest studies in process/system-related research in chemistry, biology, material, energy, environment, food, pharmaceutical, and allied engineering fields. The goal is to create an advanced forum for new development, challenges, and opportunities in process systems engineering.
All processes/system-related scientists or researchers are welcome to join this event and share their findings around the following general and related themes including, but not limited to:
Experimental, theoretical, and computational research on process development and engineering;
Process modeling, simulation, optimization, and control;
Integrated process design and scaleup;
Sustainable and renewable systems engineering;
Supply chain management;
Circular economies;
Eco-friendly processes and methods.
Submitted abstracts will be reviewed by the conference committee. The authors of accepted contributions will be invited to produce an extended abstract for the conference proceedings along with a presentation slide of their work. Following the conference, selected contributions will be invited for submission to the journal Processes (Impact Factor: 2.847).
We look forward to having you join us at this exciting event.
Conference Chair:
Prof. Dr. Giancarlo Cravotto (University of Turin, Italy)
Conference Secretariat:
Ms. Wency Xiang
Ms. Susan Ji
Ms. Elena Shi
Email: [email protected]
Energies announces selected third-party conferences. In case you would like to announce your own event on the Energies website, please fill out the following form to apply for the announcement of a conference or other academic event (seminar, workshop).
Upcoming Partner Conferences (16)